UH Dining Services celebrated the Lunar New Year by hosting a collaborative dinner extravaganza that drew 1,100 students and was a partnership with seven departments, student organizations, and subject matter experts. 
The Lunar New Year celebration was a partnership between UH Dining Services, the Institute for Global Engagement, the UH Residence Halls Association, Lambda Delta Psi Sorority, the Chinese American Language and Culture Organization at UH, the Chinese Student & Scholar Association, the Vietnamese Student Association, and Dr. Melody Yunzi Li, UH assistant professor of Chinese. 
Students were treated to a variety of traditional Asian dishes, including red bean cake, pot stickers, longevity noodles, and Buddha's Delight, to name a few. 
Alexcis Mendoza, UH Dining and Chartwells District Marketing Manager, said they curated the menu by collaborating with the seven partners and subject matter experts, adding that at least five Asian countries were represented through the evening's menu. 
The Lunar New Year celebration wasn't limited to delicious food as attendees were treated to a traditional Chinese dance by Assistant Professor Dr. Melody Yunzi Li, and a lion dance that grabbed everyone's attention. 
Some attendees were astounded at the traditional dancing and garb worn by the performers.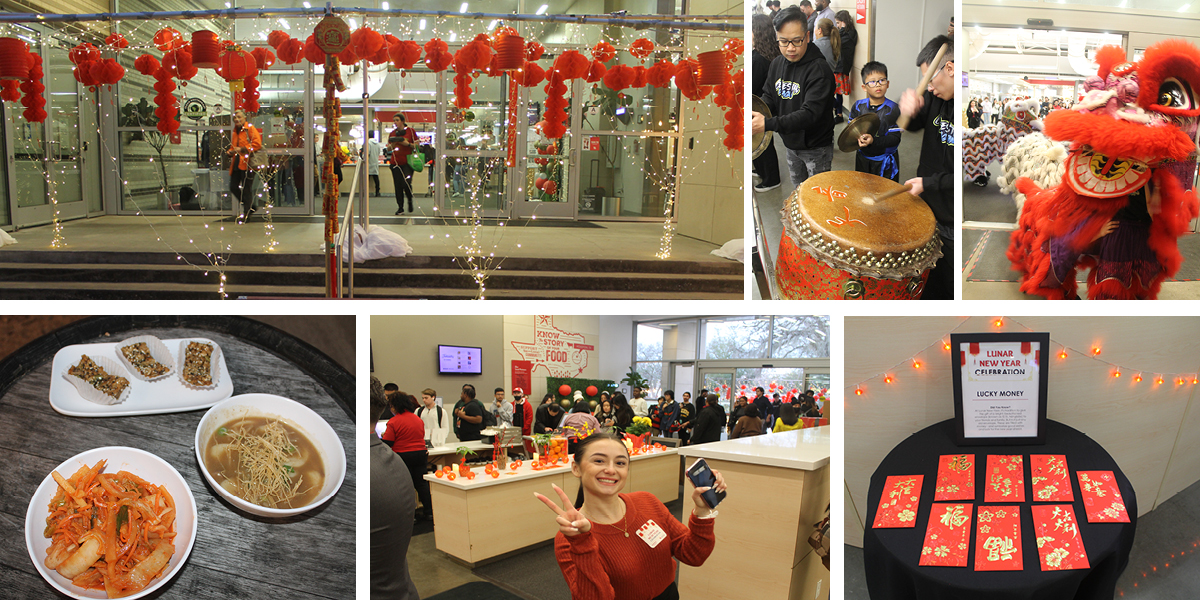 "I really liked the traditional dancing," said Jose Longoria, Director of the Mariachi Pumas. "You see a lot of the people that are wearing the traditional dresses and it's fantastic to see." 
Additional fun activities included a traditional Vietnamese game organized by members of the Lambda Delta Psi Sorority. Members of the sorority were on hand to teach people how to play the game involving bowls and cards.  
Sophomore Tyler Tran, a Lambda Delta Psi member said her organization was excited to be a part of the celebration. 
"We know that culture and diversity is a really big at UH, and UH has a big Asian community here," said Tran. "And it's nice being able to share with everyone else that may not know about the Asian culture and the Lunar New Year in general."