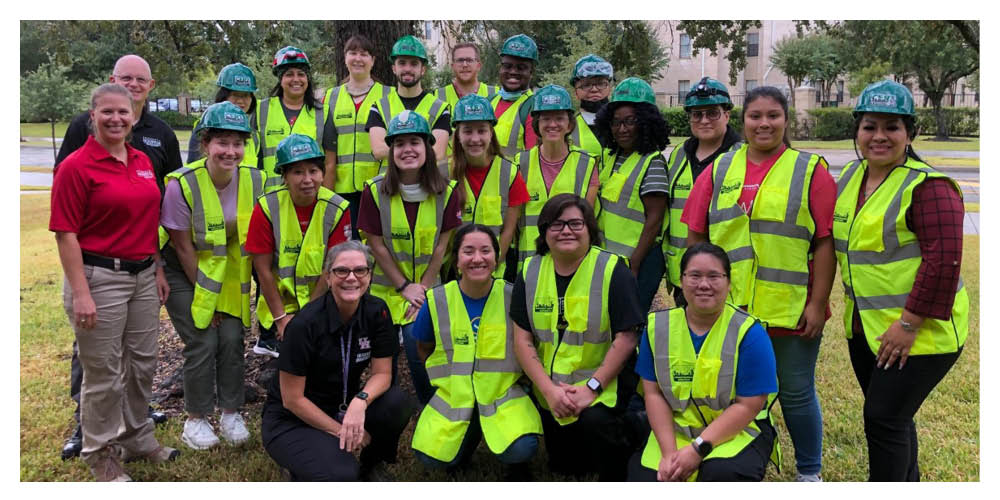 A mass causality incident hit Houston, severely impacting Minute Maid Park, PNC Stadium, the George R. Brown Convention Center, and the University of Houston.

While that scenario isn't true, it was for the faculty and staff members who were part of this semester's eight-week CERT training course organized by the Office of Emergency Management and Fire Life & Safety.

CERT, which stands for Community Emergency Response Team, is a training program that aims to prepare participants to help themselves, their families, and their neighbors in the event of a disaster or mass casualty incident.
The training is sponsored by the City of Houston and Harris County and has been offered at the university since 2011. It is open to faculty, staff, and students.

For seven weeks during the fall 2022 semester, participants took a three-hour course every Friday to prepare them for the CERT exercise drill on the eighth and final week of the training.

"We start with the basics, and then each week just kind of builds upon the previous week and teaches them the basic skills and what they need to do to be able to handle the drill," said Fire and Life Safety Executive Director Chris McDonald.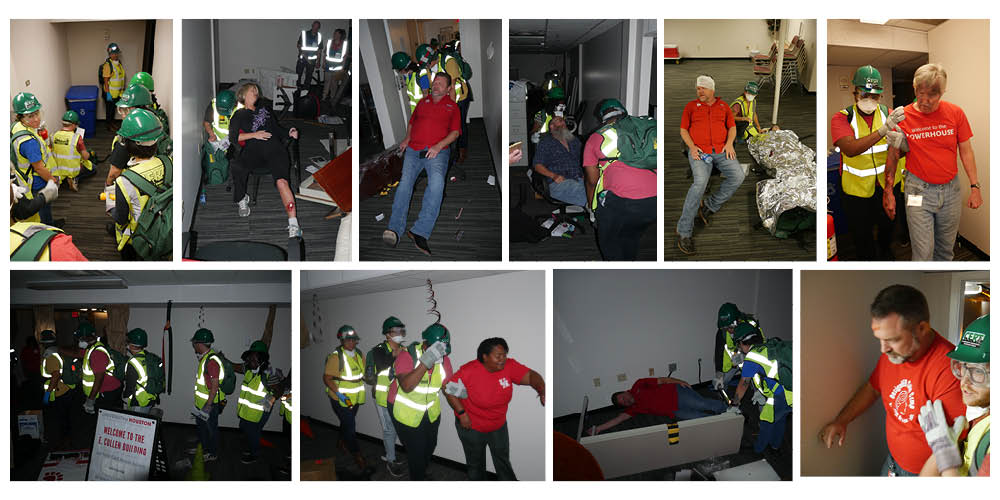 On week eight, the participants are thrown into the mock emergency exercise scenario and must implement the lessons they learned.

Director of Emergency Management Ginger Walker said the participants are never taught a skill they wouldn't use during the exercise. And similarly, the exercise doesn't surprise the participants with a skill they weren't taught.

"We might intensify a skill, but we would never introduce a skill that they have not either trained or practiced," said Walker.

Walker, McDonald, and Assistant Vice Chancellor and Assistant Vice President of Campus Safety Kelly Boysen evaluated the exercise by watching the CERT participants during the exercise, taking notes on how the team was performing.

Additionally, various UH volunteers role play as victims in the disaster simulation and exercise. Walker and McDonald develop the scenario ahead of time, including giving the victims their character injuries and back story.

Courtney Washington, Assistant Administrative for Campus Safety Administration, was one of the victims. Her role was that of a grieving and injured mother who couldn't find her baby.

"I was really excited to do this because it gave me a chance to understand the value of CERT Training," said Washington. "This really influenced my planning and decision-making in case of an emergency. I will be taking the next CERT Training course."

Emergency Management Specialist Evan Broadbent was one of the CERT participants who led the search and rescue team during the beginning of the exercise. He noted how the seven weeks of CERT training were beneficial during the exercise. Furthermore, he said the skills he learned can be used daily.

Interested in joining the next CERT training course? Registration for CERT's spring semester course is now open. Register today to reserve your spot.