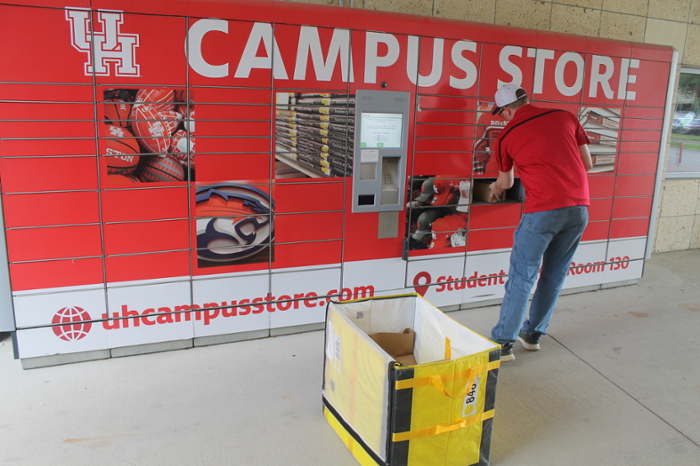 For the past two years, the University of Houston's delivery service department has been gradually implementing a new method of delivering mail and packages to students and staff.  
March marked the launch of two new smart mail and package lockers in the E. Cullen and Health 1 Buildings. In April, smart package and mail lockers are being installed for Student Service Center, Fine Arts, and Cemo Hall. These lockers will be ready to accept mail and packages before the end of the spring semester. 
The new system – smart locker banks – is a revolutionary system that allows package delivery providers the ability to deliver more items in less time and fewer stops. The smart lockers look like traditional lockers, albeit with some differences. 
To deliver a package, the delivery services department employee scans the package on the smart locker bank screen, then places it into an open locker. The locker closes and can only be opened with a code provided to the package recipient via email. 
For the delivery services department, smart lockers allow them to deliver more packages on the same day they are received. And students and staff get the freedom to collect their parcels at the time of their choosing without worrying about missing a package delivery. 
"Pre lockers, we were limited because we only have so many hours in the day we can deliver. We were relying on someone else being there," said delivery services supervisor Willard Messer. 
Currently, there are 14 smart locker banks in use across the university, with each smart locker bank having different-sized lockers on it. 
The residential halls have 10 smart locker banks. They are in Bayou Oaks, Cougar Place, Cougar Village 1 & 2, Moody Towers, Quad A, B, C, and the University Lofts.  
The lockers banks for staff and faculty are located at Tech Bridge 1 and 4, E Cullen, and Health 1. Four more smart locker banks will be installed in the coming months at the Student Service Center, Fine Arts, College of Medicine, and Cemo Hall, respectively.  
Packages are delivered to the closest smart locker bank, based on the mail code in their HR profile, said Messer. If they work in one department but are housed in another, the mail code must be updated to reflect the campus building they are working in. 
The transition from a traditional package and mail delivery system to smart lockers started in early 2019. After choosing a vendor, the first smart lockers were installed in the university's residential facilities in December 2019 and became active in Spring 2020. 
Messer said it took six months for those specific smart lockers to become operational. The department had to receive training to use them and incorporate its package and mail tracking software into the lockers. 
Now, as more smart lockers are installed throughout campus, the department can start using them as soon as a day after they are installed. 
The lockers have been a blessing for the department, which has seen a dramatic increase in the number of packages delivered to the university. 
On average, the delivery services department receives 7,500 packages for students monthly, while faculty and staff receive about 3,000. Of the close to 11,000 packages received per month, 80 to 85 percent will be delivered to students, faculty and staff via smart lockers once all the lockers have been installed and operational.  
"Instead of having a delivery driver take three hours to drop to all these locations, well now, within an hour they can deliver essentially two of those routes because they're going to two different parcel locker units [smart locker banks]," said Messer. 
Learn more about the new smart locker banks and how to use them here.