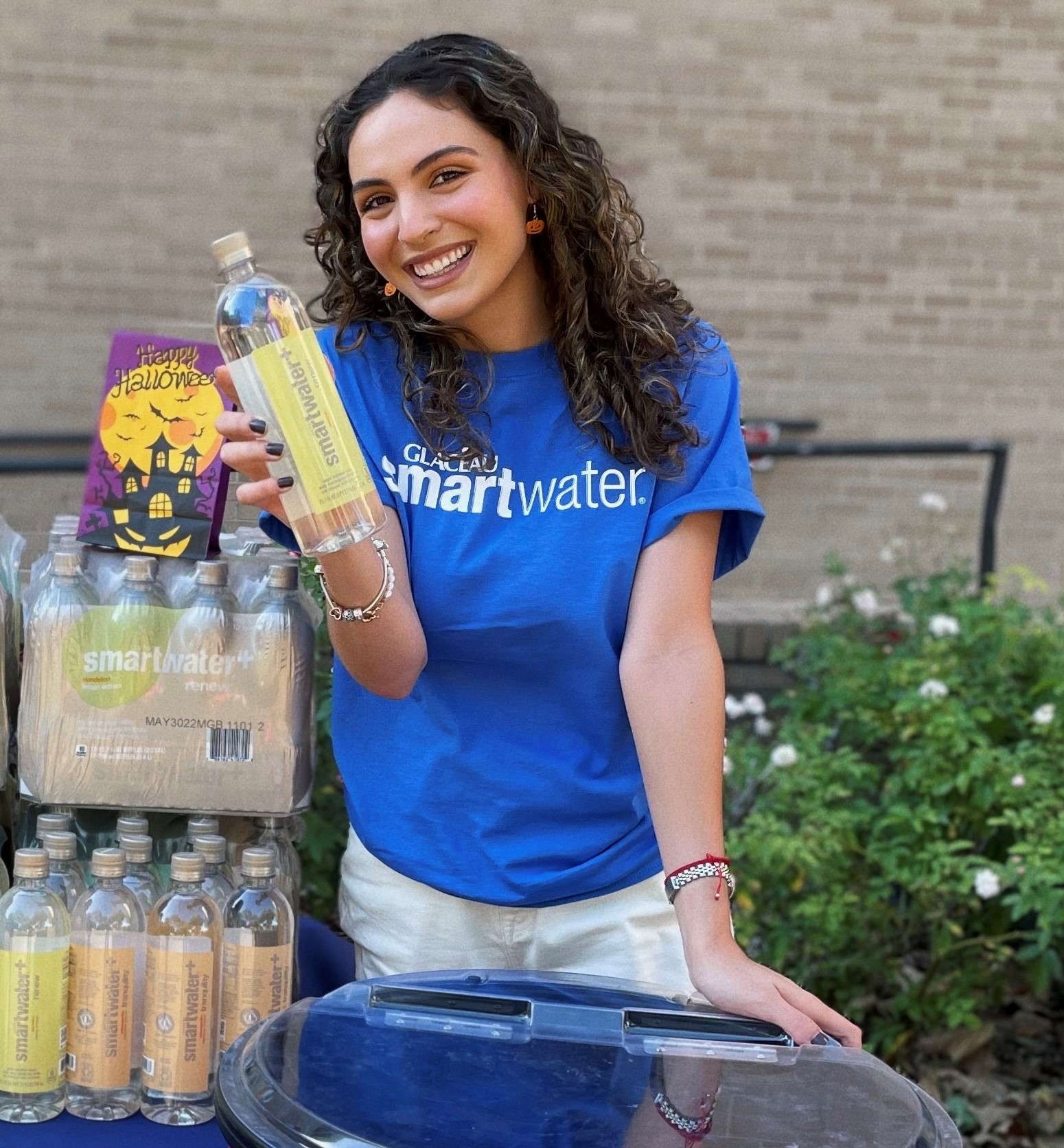 University of Houston junior Jimena De Los Reyes is a marketing major with a minor in management and leadership. And since Fall 2021, she's been Coca-Cola's UH campus ambassador. 
The Coca-Cola UH campus ambassador is a student employment experience offered as part of the UH System pouring and beverage vending contract, managed by UH Auxiliary Services. This contract is a five-year agreement, and as part of this contract, Coca-Cola provides fountain-drink and beverage vending services, as well as multiple sponsorship components and in-kind beverage support for campus events and emergency supplies of water. 
With less than a year as Coca-Cola's UH campus ambassador, Reyes outstanding work led her to pick up another title – Rookie of the Year. 
Each year, Coca-Cola gives out a slate of awards dubbed Outstanding Ambassador Awards. Due to her tremendous work as a first-year ambassador, Reyes was named the company's Rookie of the Year.  
Reyes was speechless when her boss informed her of the award. Both from shock and because she got the call while at the library.  
"I was so excited," said Reyes. "I literally had no words because it's something that I had constantly been thinking about throughout the year." 
As a result of winning the award, the 21-year-old will travel to Orlando, Florida, along with other Outstanding Ambassador Award winners. The ambassadors will visit Universal Studios and get a VIP tour and a behind-the-scenes look at how Coca-Cola works inside theme parks. 
Additionally, Reyes will be interning with Coca-Cola this summer with the company's Senior Manager of Marketing in Colleges & Universities. She was selected out of the more than 60 ambassadors in the U.S. 
"Jimena receiving the coveted national Coca-Cola internship and Rookie of the Year award was no surprise to the University. We have seen first-hand how her hard work, sparkling personality, and spirited enthusiasm have increased engagement across our campus for Coca-Cola and its products," said Executive Director of Auxiliary Services Deborah Huebler. "We are so very proud of Jimena and consider ourselves privileged to have her as our Coca-Cola ambassador!" 
For Reyes, working for Coca-Cola is a lifelong dream. She's wanted to work for the soft drink company for as long as she can remember.  
The 21-year-old grew up in Cuernavaca, Morelos, Mexico, and saw Coca-Cola advertisements plastered all over the city. Reyes' family also drove her love for the soft drink company. 
Reyes' uncle worked for Coca-Cola in Cuernavaca and often visited him at his office and accompanied him to festivals. And if her uncle got a company shirt or trinket, it usually found its way to Reyes. 
Suffice it to say, Coca-Cola has been in Reyes' life since she was young. 
While at the university, the marketing major would keep an eye out for Coca-Cola internships or part-time jobs with the company but had no luck—until one fateful day.  
Reyes received an email from an email listserv that announces part-time job opportunities. One of those opportunities was for the Coca-Cola campus ambassador. Reyes jumped in with both feet and became the university's Coca-Cola ambassador in Fall 2021. 
The marketing major said having a part-time job on campus has helped her step out of her comfort zone and expanded her network. Not to mention the resume-building skills she's picked up that will aid her in her career. 
"A lot of the things that I do, like for social media and promoting Coke, also goes with my major," said Reyes. "It goes hand in hand, and it's something I've added to my resume." 
It may have taken some time, but Reyes finally joined the Coca-Cola family, just like her uncle.