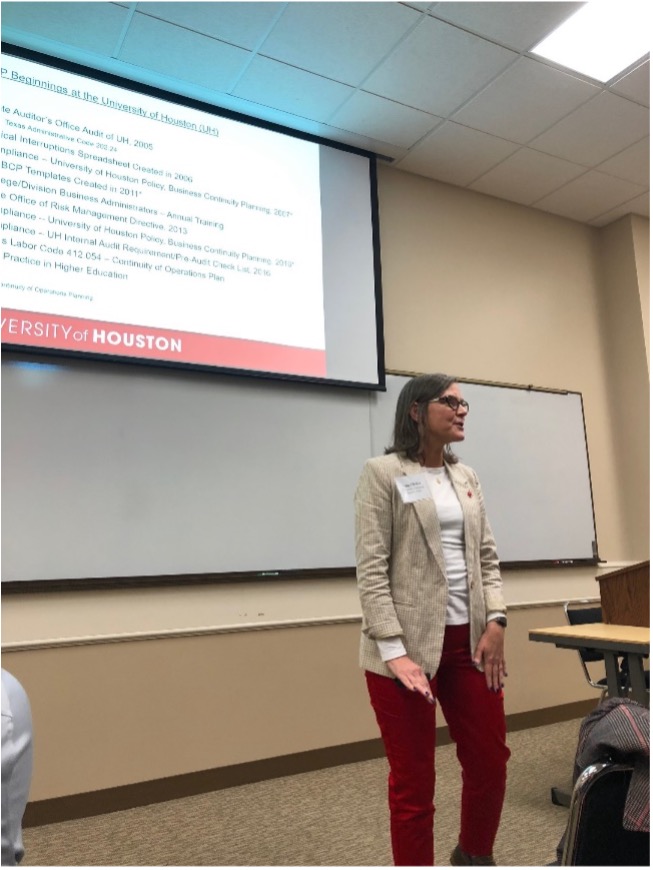 Ginger Walker, Director, Emergency Management with the Office of Emergency Management, presented to the Preparedness Response Innovation Mitigation Recovery (PRIMR) Conference at the University of North Texas on March 7th. 
The PRIMR Annual Conference focuses on catastrophic disaster preparedness. Catastrophic disasters leave a trail of destruction from staggering financial costs to widespread societal disruption and human suffering. 
In recent years, Texas has been impacted by a worldwide pandemic, a massive winter storm, hurricanes, floods, wildfires, droughts, induced earthquakes, offshore oil spills, and chemical explosions.  
Due to these catastrophic disasters, governmental and non-governmental, public and private companies, have developed an extensive body of knowledge in preparedness for these disasters. Being prepared allows these entities to better mitigate and respond to these sorts of disasters. 
Walker's presentation, Building a Continuity of Operations Planning Program from the Ground Up, allowed her to share her knowledge and experience on preparedness. Walker shared the success of the University of Houston's program and lessons learned through a vast number of natural disasters.