The University of Houston (UH) and Neighborhood Partnership Forum (UNPF) is an initiative set forth by Dr. Renu Khator, Chancellor/President of the University of Houston System and University of Houston. It was organized during the summer of 2014 and is co-chaired by Rev. William Lawson, pastor emeritus of Wheeler Avenue Baptist Church, and Dr. Elwyn C. Lee, Vice President for Neighborhood & Strategic Initiatives, UH. The other UNPF members are administrators from UH and community representatives drawn from neighborhood churches, schools and non-profit social organizations. Recommendations formed by the UNPF led to the launching of the Third Ward Initiative.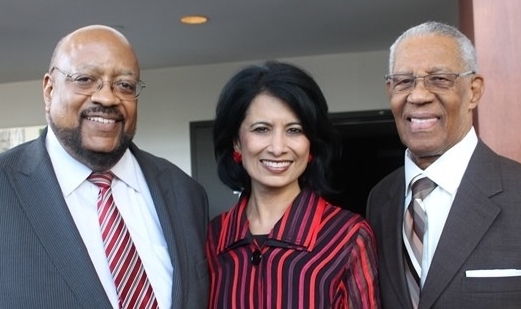 President Khator charged UNPF with investigating best practices in university and community partnerships. UNPF members researched such collaborations and took several trips across the nation to learn about strategies. Of special note were the trips to Cleveland, Ohio where the group learned about collaborations spearheaded by the Cleveland Foundation, and the trip to Philadelphia where insights were garnered from the Netter Center of the University of Pennsylvania, the acknowledged gold standard in university/community partnerships. 
---
Members
Alan Bergeron, CEO & President, Bergeron Management Services
Brian Smith, Board Chair, Greater Southeast Management District
Paul Charles, Executive Director, Neighborhood Recovery Community Development Corporation
Donna Blackshear-Reynolds, University Oaks resident
Edwin Harrison, Row House CDC 
Eugene "Gene"  Locke,  Partner, Attorney, Andrews & Kurth, LLP
Cleveland Gite, The Alliance for Reform 
Howard Jefferson, Member, National Board of NAACP 
Keith Watson Wade, Special Assistant to the Mayor
Cheryl Lawson, CEO, WALIPP Academy
Elwyn Lee, Co-Chair, Vice President for Neighborhood & Strategic Initiatives, University of Houston
Leonard Spearman, Director Office of Governmental Relations, Texas Southern University
Michelle Barnes, Executive Director, The Community Artists' Collective
Omowale Luthuli-Allen, Community Engagement Director, My Brother's Keeper Houston
Mary Ann Ottinger, Associate Vice President for Research
Patrick Peters, Professor, Gerald D. Hines College of Architecture, University of Houston
Rev. Manson Johnson, Senior Pastor, Holman Street Baptist Church 
Rev. Preston Allen, Director for Nonprofits and Community Development, Wheeler Avenue Baptist Church 
Rev. Robert E. Magee, Senior Pastor, Trinity United Methodist Church 
Rev. William A. Lawson, Co-Chair, Pastor Emeritus, Wheeler Avenue Baptist Church
Rodney Reynolds, Texas Southern University College of Business
Assata Richards, Executive Director, Sankofa Research Institute
Susan Rogers, Associate Professor, Gerald D. Hines College of Architecture; Director of the Community Design Resource Center, University of Houston
Rev. Leslie Smith, Founder & CEO, Change Happens!
Vonda G. Mays, Projection Management Specialist, Shell Oil Company – Global Litigation
Robert Wimpelberg, Professor, College of Education, University of Houston
Yolanda Smith (alternate with Howard Jefferson), Executive Director, Houston, Branch, NAACP
Talibah Young, Senior Assistant General Counsel, University of Houston