EAS Exchange Students Explore Arctic Geology of Svalbard, Norway

Graduate Students Munoz and Campo Blog from Norway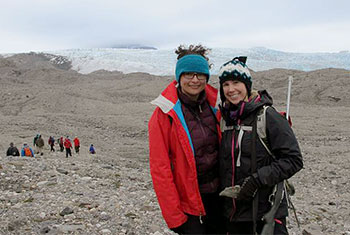 From left, Yuribia Munoz and Jennifer Campo on field trip to visit glacial deposits on the island of Spitsbergen near Norway. Students are trained in the use of rifles to protect themselves from polar bears that roam the island.Two University of Houston graduate students in geology, Yuribia Munoz and Jennifer Campo, are spending the summer in Svalbard, Norway as foreign exchange students.
To keep friends, family and the Department of Earth and Atmospheric Sciences (EAS) up to date with their activities, Munoz and Campo are blogging about the experience.
An agreement signed in November 2012 by UH and University of Stavanger officials laid the groundwork for a student exchange program between EAS and the Department of Petroleum Engineering at the University of Stavanger in Norway. Stavanger, the oil capital of Norway, is a coastal city strategically sited next to Norway's largest North Sea oil fields; it has been Houston's sister city since the 1970's.
Through the program, UH graduate or undergraduate geology and geophysics students can take courses in Stavanger (where all classes are conveniently taught in English) for one or two semesters, and Norwegian students can come to the U.S. and take courses at UH.
As part of the exchange program, Munoz and Campo are taking the course, Arctic Terrestrial Quaternary Stratigraphy. The course includes an eight-day field excursion on a research vessel to Spitsbergen, a heavily glaciated and topographically elevated island surrounded by the Barents and Greenland Seas and Arctic Ocean at latitude 78 North. Spitsbergen is under the sovereignty of Norway and has about 2,700 year-round inhabitants.
Munoz and Campo are working on graduate degrees at UH focusing on sedimentation in fjords in Antarctica. Their UH mentor is Professor Julia Wellner. The glacial studies fit well with Munoz and Campo's thesis-related studies of Antarctic glaciers.
The participants in the summer program consist of 14 graduate students and three professors from the University of Iceland, Lund University in Sweden, and the University of Norway at Svalbard, who are studying various aspects of the geology of the island. The course included an intensive three-week study of the bedrock stratigraphy exposed on the island and its glacial history.
In addition to the field work and seminars, Munoz and Campo are having other novel experiences including a sun that never sets, frigid temperatures, rainy days, a complete lack of vegetation, and keeping a sharp eye out for polar bears that range over the island.
Munoz and Campo describe their Norway and Spitsbergen trip in their blogs posted at: http://eassvalbard.blogspot.com.