David Hoffman
Professor and Department Chair
Department of Chemistry
Office: SR1, 22
Contact: hoffman@uh.edu - 713-743-3255
Education: Ph.D., Cornell University, 1982; B.S., Miami University (Ohio), 1977
Postdoctoral Associate, Indiana University, 1982-84
Inorganic and Materials Chemistry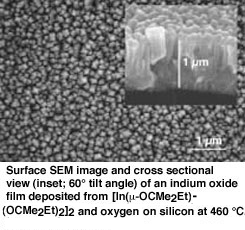 The research in my group is centered on synthesis. Our studies emphasize the synthesis of main group and transition metal organometallic and metal-organic compounds and the preparation of inorganic thin films from molecular precursors by using the technique of chemical vapor deposition. Inorganic thin films are technologically important materials used, for example, in the manufacture of microelectronic and optical devices, and chemical vapor deposition is a simple, economical, and technologically flexible method for preparing the films.
Research projects in my group typically involve three components: The design, synthesis, and complete characterization of new molecular compounds for use as thin film precursors; the preparation of films using home-built chemical vapor deposition apparatus; and extensive film characterization studies using a variety of analytical techniques (e.g., X-ray photoelectron spectroscopy, scanning electron microscopy, backscattering spectrometry, FT-IR and UV-VIS spectroscopy, etc.). Fundamental synthetic and reactivity studies related to the precursor syntheses are often coupled to the projects. In addition, design and fabrication work is usually necessary to modify an existing chemical vapor deposition apparatus or build a new apparatus when a project is started.
Current research projects include the synthesis of main group and transition metal alkoxide, main group thiolate and sulfide, and transition metal amide and hydrazide complexes for use as precursors to the corresponding oxide, sulfide, and nitride films, respectively.
DuPont Young Faculty Fellow, 1986
Alfred P. Sloan Research Fellow, 1992–1994