Five Chemistry Faculty Awarded NSF CAREER Awards since 2017
In the past three years, within the Department of Chemistry in the College of Natural Sciences and Mathematics, junior faculty have demonstrated a track record of success in receiving the highly prestigious National Science Foundation's CAREER Award.
NSF CAREER Awards, which offer five years of funding, are granted to faculty members at the assistant professor level who exemplify the role of teacher-scholars through "outstanding research, excellent education and the integration of education and research."
Since 2017, five faculty members in the chemistry department have received a CAREER Award. This number of awards is a testament both to their excellence in research as well as the culture of support within the department.
"When it comes to award nominations and applications, our department has been extremely supportive," said Jakoah Brgoch, an assistant professor of chemistry and NSF CAREER Award recipient. "They not only write strong letters of support, but they also help identify awards and make connections that are essential to winning the awards and advancing our careers."
Awarded faculty members include Jerry Yang, Judy Wu, Loi Do, Jakoah Brgoch and Thomas Teets.
Jerry Yang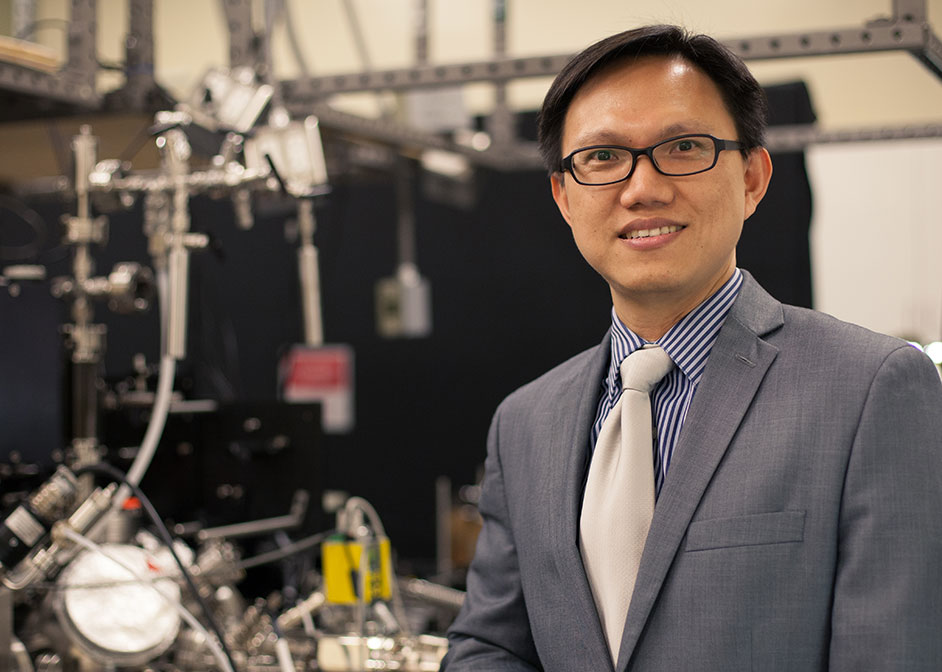 Ding-Shyue (Jerry) Yang received a five-year, $570,332 CAREER Award in 2017, which funds his research looking at the interaction between different molecules and solids with different surface affinities, as well as their dynamics at the interfaces. To do this, he uses the 'pump-probe' methodology incorporated with electron diffraction to produce a 'molecular movie,' which has the capability to image molecular motions and structural transitions on a wide range of time scales as short as less than a thousandth of a billionth of a second.
"With the 'pump-probe' methodology, we perturb the molecules by a pump laser pulse, and then send out an interrogating electron probe pulse to ask 'What are you doing and where are you?'" Yang said. "It's like a 'Q&A,' when you ask a question and get an answer. We provoke the molecules to see how they respond in such a movie."
Judy Wu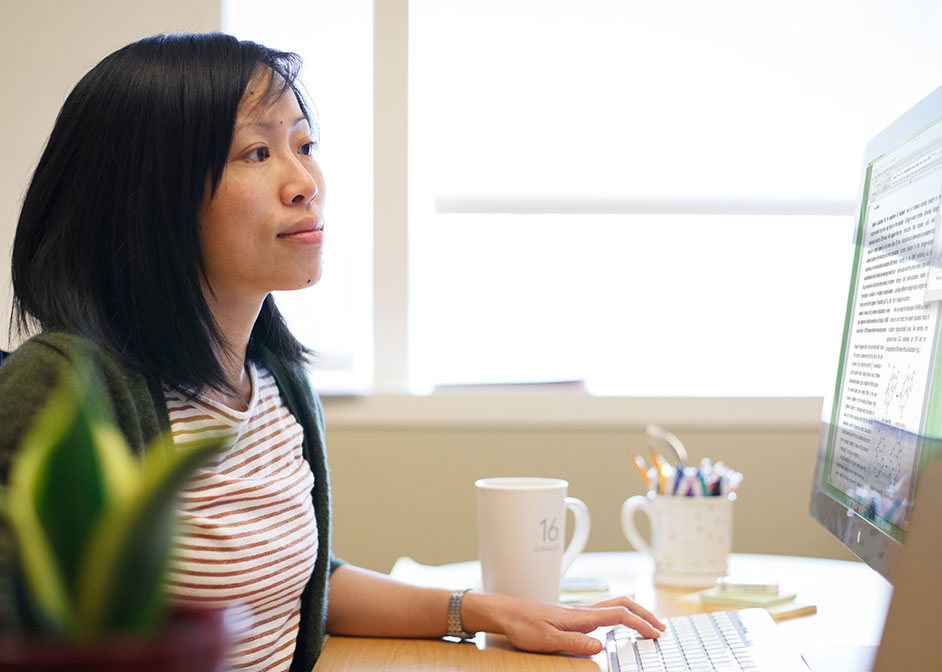 Judy Wu received her CAREER Award in 2018, for the amount of $585,012. Her research studies the link between aromaticity and hydrogen bonds. Although both of these concepts are well-established in chemistry textbooks, they have largely been considered separate ideas. Wu's research is exploring ways to control hydrogen bonds and other noncovalent interactions using classical electron-counting rules of aromaticity.

"The practical impact is, if we know how to control the strengths of hydrogen bonds more precisely, we can improve the designs of functional molecules and materials," Wu said.
Loi Do
In 2018, Loi Do received a $626,300 CAREER Award. This grant supports his efforts to develop new methods of producing a type of plastics called polyolefins, which are used in everything from plastic bags, paints, sporting goods and auto parts. Do's research is focused on developing methods that are economical, sustainable, and able to be used in an industrial capacity.
"We hope we can produce the same type of products in a much more sustainable way," Do said.
Jakoah Brgoch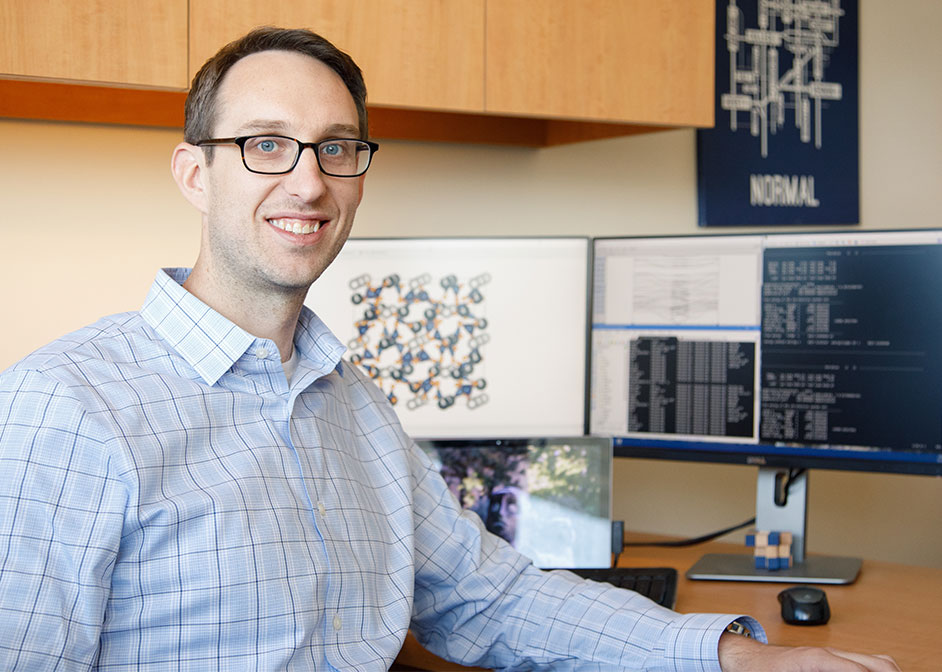 Jakoah Brgoch received a 2019 CAREER Award for the amount of $656,000, which supports his work developing and synthesizing energy-efficient materials, such as those used in LED lighting systems. To do this, Brgoch's research group combines machine learning, data-enabled algorithms, and synthesis methods.
"We use machine learning and computational chemistry to direct our discovery of functional inorganic materials," Brgoch said. "We are one of the few groups that does computation, machine-learning, and synthesis of new materials, all in a single group."
Thomas Teets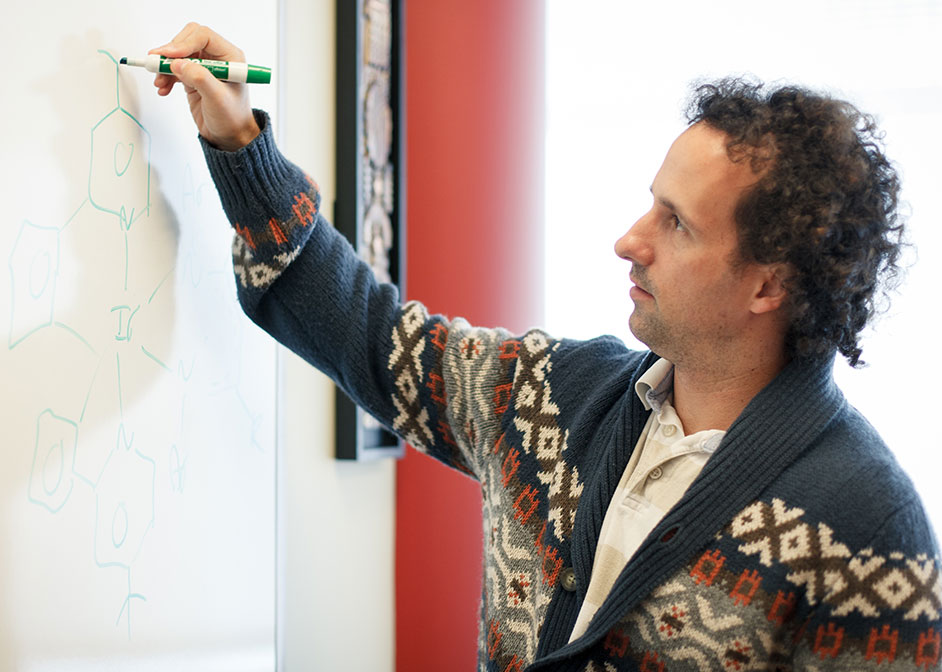 Thomas Teets was awarded a 2019 CAREER Award, for the amount of $589,000. This grant supports his work on developing and synthesizing luminescent compounds, such as those used in organic LED displays.
"We're developing tools that will allow synthetic chemists to use light to promote synthetically useful reactions," Teets said. "In addition, we are designing complexes which luminesce efficiently in the extremes of the spectrum, deep blue and near infrared, which could be beneficial to color display and imaging applications."
Cutting-Edge Research That Attracts National Recognition
The number of junior faculty winning CAREER Awards is an indicator of a culture of departmental excellence. Every year, faculty within the chemistry department are recognized with national and international honors.
"When we invite young scientists to join the chemistry faculty, our expectation is that they will perform cutting-edge research that attracts national recognition, such as the NSF CAREER Award, a goal the entire department is committed to helping them achieve," said David Hoffman, professor of chemistry and department chair. "The success of our junior faculty is evidence that our approach is sound."
- Rachel Fairbank, College of Natural Sciences and Mathematics