Recognizes Research Excellence and Collaborations with French Chemists
Karl M. Kadish, Hugh Roy and Lillie Kranz Cullen University Professor of Chemistry at the University of Houston, was selected to receive the 2017 inaugural French-American Prize, a binational award, sponsored jointly by the French and American Chemical Societies. The award will be presented at a ceremony during the Spring 2018 meeting of the Société Chimique de France (SCF) and recognizes Kadish for his outstanding research discoveries and collaborations with French scientists.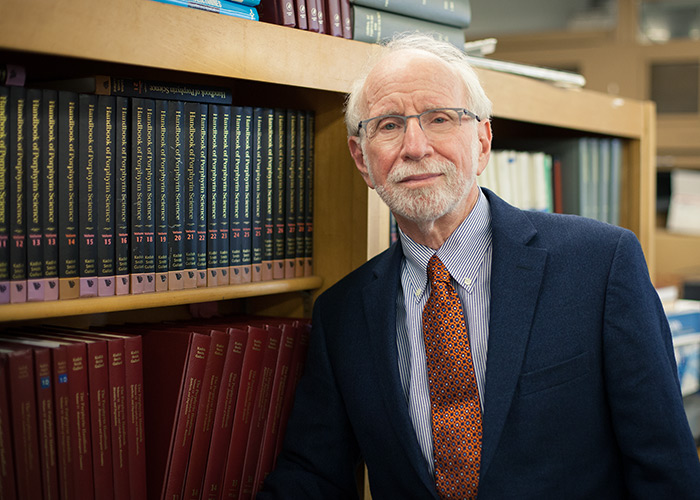 "Chemistry can no longer be done by just a single person or group," Kadish said. "International collaborations are important, as they offer a broader perspective."
Kadish started his collaborations with French chemists in 1971 when he accepted a one-year postdoctoral position as chargé de recherche at the University of Paris. Since then, his collaborations with French scientists were expanded by virtue of his extended stints as a visiting professor at institutions in Dijon, Lyon and Strasbourg, as well as shorter lecture visits to other universities in France.
Kadish played a key role in an exchange program that brought French chemistry students from the Ecole Superieure de Chimie Industrielle de Lyon to the Ph.D. program at UH. In this program, students combined the start of their graduate program at UH with their final year of undergraduate studies in Lyon and then remained at UH to complete their advanced degree.
In the years that this program was in effect, more than 75 students from French universities received graduate degrees in chemistry from UH, with Kadish serving as graduate advisor for 24 of these students. Kadish has published more than 600 peer-reviewed papers since arriving at UH, 253 of which were co-authored with his French graduate students or with students and senior scientists from France who collaborated with his group in Houston.
"These (individuals in the joint program) were very bright students who came to Houston to get their graduate degree, and then went back to France, where they remained in contact with UH, while going on to top positions in industry and academia," Kadish noted.
While working in France, Kadish founded and was elected President of the Society of Porphyrins and Phthalocyanines (SPP), which is headquartered in Dijon, and has thousands of members from almost 50 different countries worldwide.
One activity of the SPP is to sponsor an international 7-day conference every two years, with the goal of bringing together the top porphyrin and phthalocyanine researchers in the world. As president of the society, Kadish has served as the main organizer, co-organizer or advisor of each subsequent meeting which is sponsored, in part, by UH and limited to a maximum of 750 participants. The first conference was held in Dijon, and this was followed by meetings in Kyoto, Moscow, Rome, Istanbul, New Orleans and Nanjing as well as other locations in the U.S. and Asia. The 2018 meeting will be held in Munich.
SPP also publishes the Journal of Porphyrins and Phthalocyanines, of which Kadish is a co-founder and editor-in-chief. In addition to serving as journal editor, Kadish co-edited 20 volumes in a series of books entitled The Porphyrin Handbook and this was followed by 44 additional volumes of a related series entitled Handbook of Porphyrin Science which began publication in 2011 and should continue until 2020.
Kadish will give a major lecture as part of the French-American award ceremony next spring, after which he will go on a lecture tour, giving three talks on his research at different institutions in France.
- Rachel Fairbank, College of Natural Sciences and Mathematics