Chemistry Grad Tho Tran Receives Phi Kappa Phi Fellowship

Pursuing Ph.D. in Organic Chemistry at MIT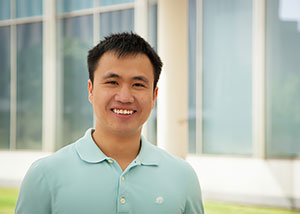 Organic chemistry started out as just another course Tho Tran needed to get an A in. He soon developed a passion for the subject, however, and will enter a Ph.D. program in the fall to further his study.
Tran, a 2014 University of Houston graduate with a major in chemistry, is one of 51 students nationwide selected for a $5,000 Phi Kappa Phi Fellowship. The fellowships are awarded to Phi Kappa Phi Honor Society members entering the first year of graduate or professional study.
"When I started at UH, I was focusing on pre-med. Things changed when my organic chemistry professor, Randy Lee, recognized my potential and took the time to talk to me about a possible career in organic chemistry," Tran said. "He gave me just the push I needed; I would have never thought one class could change my life like that."
Tran describes his interest in organic chemistry as an obsession and did two years of undergraduate research with Jeremy May, an assistant professor of chemistry. "I'm developing a method to create a novel reaction that produces polyenes, which are precursors to anti-fungal and anti-malarial drugs," said Tran, who is wrapping up his research project this summer at UH.
He will begin his Ph.D. studies at the Massachusetts Institute for Technology in the fall and plans to focus on organic chemistry. Tran is interested in research to generate a renewable alternative fuel through combining simple alcohols.
Throughout his undergraduate years at UH, Tran worked in several capacities helping students better understand chemistry. Those positions included tutoring in the American Chemical Society Tutor Room, serving as an Organic Chemistry I and II facilitator for the College of Natural Sciences and Mathematics' Scholar Enrichment Program, and working as a teaching assistant for Randy Lee, Cullen Distinguished University Chair, and Don Coltart, an assistant professor of chemistry.
"It is bittersweet to be leaving UH," Tran said. "All the opportunities I had at UH working for Drs. Lee, Coltart and May gave me the chance to go to MIT."
One day, Tran hopes to return to his hometown and be a professor at UH.
- Kathy Major, College of Natural Sciences and Mathematics