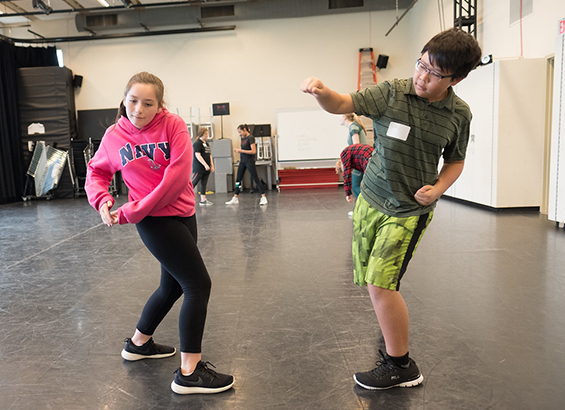 Camp Shakespeare kicks off the 44th season of the Houston Shakespeare Festival (HSF) at Miller Outdoor Theatre.
A new addition to this year's festival, the camp is geared towards seventh and eighth grade students. Actors in the HSF Company will teach campers basic acting and stage combat techniques. The five-day camp starts Monday, June 18 and ends Friday, June 22 with a parent showcase where kids will perform scenes from "A Midsummer Night's Dream".
"This is an entry point for students to learn about Shakespeare's poetry," said Cori Stevenson, director of HSF outreach. "Our hope is that students fall in love with his language. Shakespeare can be very accessible, and maybe someday they will join us on the big stage at Miller Outdoor Theatre in our conservatory."
HSF Conservatory is a 17-day overnight, intensive summer camp for high school students. Participants live at UH's Cougar Village residential halls and have the opportunity to perform in festival productions and learn from veteran actors and directors. This camp runs Friday, July 20- Sunday, August 5.
The Houston Shakespeare Festival has been a summer tradition since 1975. It is produced by the UH School of Theatre & Dance and offers free performances at Hermann Park's Miller Outdoor Theatre (6000 Hermann Park Dr.). The 2018 schedule is as follows:
"Hamlet" –July 27, 29, 31; Aug. 2, 4 at 8 p.m.
"Comedy of Errors" – July 28; Aug. 1, 3, 5 at 8 p.m.
Click here for more details about HSF. Information about tickets and the venue can be found on the Miller Outdoor Theatre website.
---