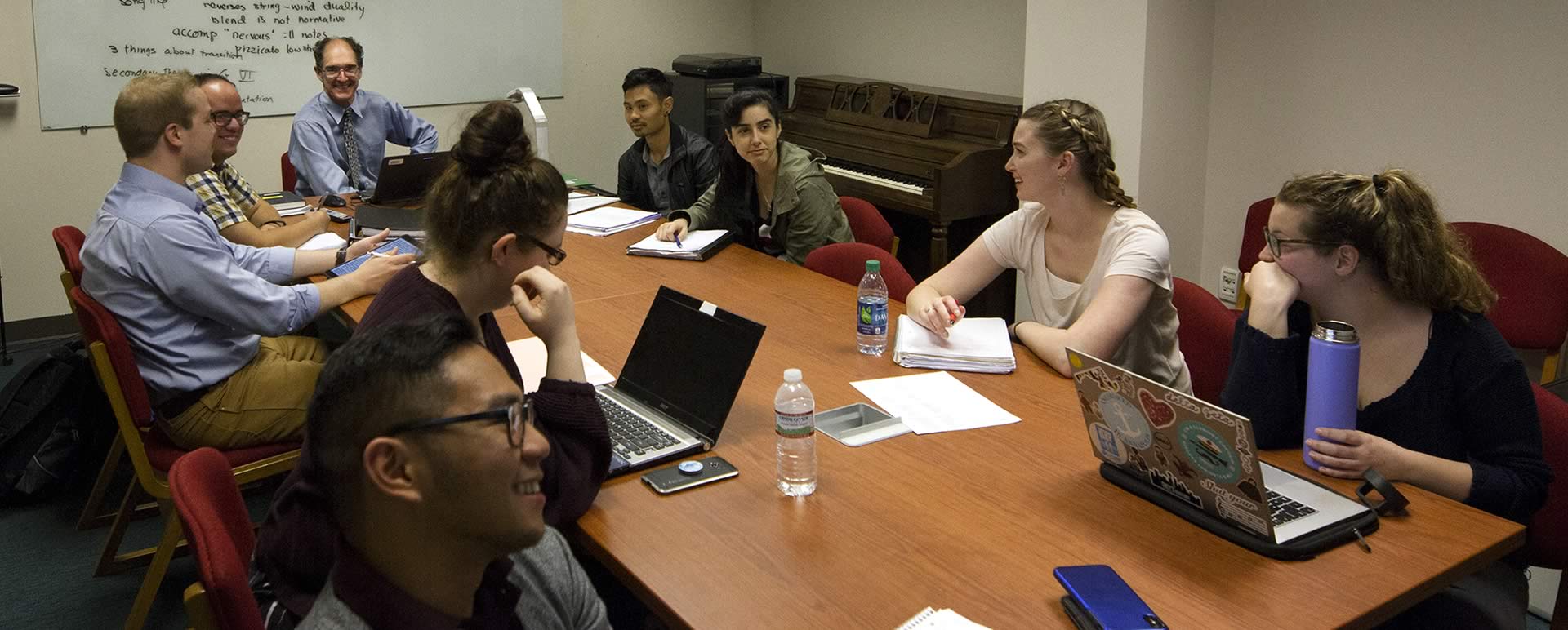 Apply and Audition for the Moores School of Music
The Moores School of Music's commitment to academic excellence and the highest performance standards has made the institution a vital resource in the educational and cultural life of this city. We offers graduate students a rigorous program of study in both academic and performance areas, preparing talented graduates to become leaders in their fields. The University of Houston offers the following graduate-level music programs: Master of Music, Doctor of Musical Arts, and Certificate in Music Performance. Areas of concentration include: collaborative piano, composition, conducting, performance, music education, musicology, music theory, pedagogy and sacred music. With over 80 faculty members and 600 students, the Moores School of Music provides graduate students a unrivaled variety of performance opportunities and provides Houston with a diverse source of musical experiences. As the fourth largest city in America, our students have a wide array of opportunities for world-class cultural experiences at their doorstep. Our graduate students are also exposed to the many professional, religious and community-based performance opportunities the city has to offer.
How to Apply
Apply to the UH Graduate School. As part of the application system, applicants can do the following:

Pay the application fee 
Request letters of recommendation from music professionals. Applicants to the doctoral or Masters programs should request three (3) letters. Applicants to the Certificate in Music Performance program should request two (2) letters. During the online application, applicants are asked for the names & email addresses of their recommending persons. Those individuals will be contacted directly by UH to submit their recommendations. Letters of recommendation should not be mailed or emailed to the Moores School of Music or the UH Graduate School.

Submit all official college transcripts to UH Graduate Admissions.

Proof of Degree. The State of Texas requires all incoming graduate students to provide proof that they have received the appropriate previous collegiate degree(s) in order to enter any graduate program. Students who apply while enrolled at another institution will be required to submit an additional, final transcript to the UH Graduate Admissions Office upon completion of their degree. (Example, a Master of Music applicant who is accepted during their senior undergraduate year must send a final transcript [showing degree conferral] after graduating).
International Transcripts. If you have attended an institution outside of the United States, please see the Graduate School's International Applicants Transcript Information for country-specific requirements.
Official Address. If your previous institution uses the eScript electronic transcript system, copies can be submitted to gradschool@uh.edu. Otherwise, send official transcripts by mail to

University of Houston
Graduate Admissions
P.O. Box 3947
Houston, Texas 77253-3947



Apply to the Moores School of Music. Students must complete both the University of Houston general application for graduate admission, as well as the Moores School of Music supplemental application (including the submission of all required documents, video recording, and test scores). The video recorded audition is also used as the audition for scholarships for an incoming student. Graduate applicants are encouraged to submit their full application by the priority date. Please see https://app.getacceptd.com/houstonmusic.
As part of the application system, applicants upload the following:

High-quality video recording for all performance, collaborative piano, music education and conducting applicants. 

View the Graduate Audition Requirements for video requirements.

Apply for a Graduate Assistantship (the file is available within the Moores School Application)

International Applicants. If you have attended an institution outside of the United States, please see the Graduate School's  International Applicants Transcript Information for country-specific requirements.


International Applicants must s

atisfy

English proficiency requirements

via satisfactory scores on one of the standardized exams. Use school code

 6870  for reporting scores. More information.
International applicants

are strongly encouraged to upload the following documents, which will be required to obtain a student visa if admitted:

A scanned copy of passport page(s) showing full name, date of birth, passport number and expiration date, photo of the passport holder.

 If you have questions about the application process, please email musicadmissions@uh.edu.