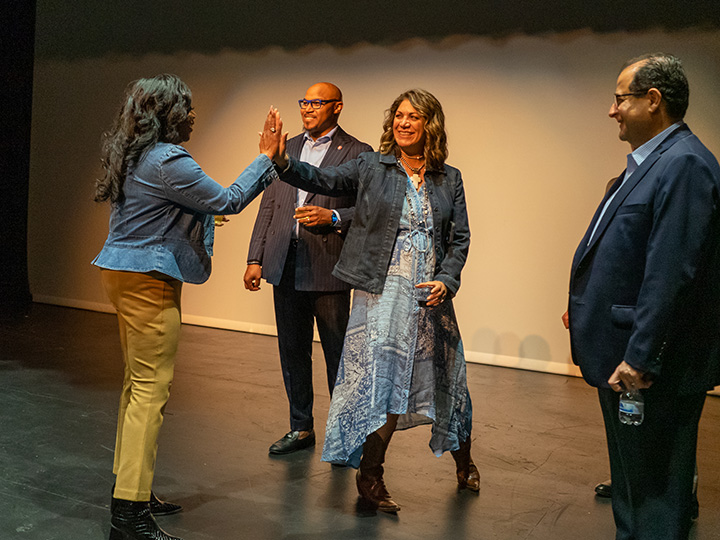 The College of Liberal Arts and Social Sciences at the University of Houston welcomes seven new members to its Dean's Advisory Board. These distinguished industry leaders bring a wealth of expertise and knowledge to the board, as well as opportunities for engaging new communities.
"We are thrilled to welcome our new advisory board members," said Daniel P. O'Connor, CLASS dean. "Their diverse backgrounds and expertise will be invaluable in helping our college achieve its strategic goals and better serve the Houston community." 
The advisory board now consists of 19 members, led by co-chairs Rev. Alexander Johnson and Baruch Williams, Ph.D. The collective experience of the board in higher education, business, engineering, health care, communications and publishing will bring a breadth of fresh perspectives to help guide current and future initiatives at the college. 
The new board members are: 
Amer Al-Nahhas is the former president of SpawGlass Civil Construction. Highly skilled and knowledgeable, Al-Nahhas is also a lecturer in construction management at the University of Houston as well as a board member for the Arab American Educational Foundation. He holds an MBA from Texas A&M, a M.S. in Civil Engineering from Rice University and a bachelor's degree from the University of Petroleum and Minerals. 
Annette Bracey is a highly respected health-care consultant and contractor, as well as a longtime board member for Women, Gender & Sexuality Studies. She holds an M.A. from The University of Texas Health Science Center at Houston and a B.A. from Fisk University.
James T. Campbell ('83) is a director of communications for Blue Cross and Blue Shield of Illinois, Montana, New Mexico, Oklahoma and Texas where he sets internal and external communication strategies. A University of Houston alumnus, he holds a B.A. in Journalism and is a recipient of the Charles Edison Youth Fund Political Journalism Fellowship from George Washington University.
Frances Castañeda Dyess is an experienced leader in the Houston community and brings a wealth of knowledge to the board. As president of the Houston East End Chamber of Commerce, she has been instrumental in helping to boost the local economy and supporting small businesses. Dyess has a B.S. in public relations and communications from Southern Methodist University.
David Gardner, Ph.D. ('72) is a strategic planning and data consultant, as well as a former deputy director of the Texas Higher Education Coordinating Board. After earning a B.A. in English from UH, he received an M.A. in educational psychology and a Ph.D. in education administration, planning, research, and evaluation from Texas A&M University. 
Eliza Horn serves as the associate director of strategic communications for ESG, brand and marketing at Wiley. An experienced leader in the world of communications and publishing, she holds a master's degree in English from Arizona State University and a bachelor's degree in English: Law and Social Justice from Vanderbilt University. Horn previously served as chair of UH Friends of Women's Studies.
Staci LaToison ('03) is the founder and CEO of Dream Big Ventures. An experienced leader in the world of business and technology, she holds a master's degree in international business from the University of St. Thomas, a bachelor's degree in information technology from the University of Houston and an Executive Education certificate in Venture Capital Private Equity Program from Columbia Business School. Previously, LaToison was a manager at Chevron with experience in innovation and strategy.  
The new members will join the existing board, including: Eliza Horn, Manisha C. Gandhi, Aziz Shaibani, Jeremy T. Edwards, Geraldina Wise, Michelle A. Barnes, Kathy Flanagan-Paton, David W. Hawes, MaryRoss Taylor, Rick Pal and Graciela G. Saenz. CLASS is dedicated to serving as a leader in community engagement and students' career readiness. Members of the Dean's Advisory Board play a crucial role in shaping the future of the college and ensuring that it continues to serve the Houston community.