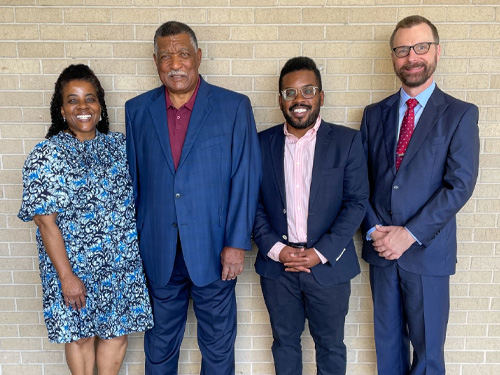 In 1965, Gene Locke became one of the first African American students to attend the University of Houston. A year earlier, the University had made history as the first major southern university to desegregate its athletics program, and scouts were actively recruiting African American athletes. Already familiar with the city of Houston and eager to break the color line imposed by years of Jim Crow, Gene chose UH. 
"My first experience was how isolated Black students were at UH," Gene said. "The institution had not taken any steps to meaningfully integrate us into the mainstream of the school, and the social norms of the early- to mid-1960s were such that black and white students didn't mingle and associate."  
Gene's time at the University of Houston was marked by academics, activism and working to put himself through college, experiences that impressed upon him the importance of education and the power of civic engagement. 
"As Black, we had been told we were intellectually inferior, and our schools were inferior," Gene said. "We wanted to prove that stereotype wrong. I wanted to be a part of a predominately white school, UH had the foresight to integrate its athletic program the year before I got there. That helped me decide to go to UH." 
Gene noted that his initial years at UH were difficult. He faced multiple racial barriers and societal stigmas of not belonging. However, the challenge to fit in, to prove himself as equal, quickly formed friendships of all races that are still strong. 
Paving the way for education and activism 
This spring, the Locke family's commitment to the University of Houston community entered a new chapter. The family launched The Gene and Aubrey Locke Legacy Scholarship for Community Service, a scholarship endowment created to lessen the financial burden for students participating in civic engagement and/or community service. 
"Often, it's hard for students who don't have a lot of financial means to make a contribution to society, so we created a scholarship that encouraged student activism, involvement and making a difference," said Gene, who experienced this scenario firsthand. "You never really live college life, and we want to make that happen, to make it easier for students working hard to both enjoy college life and succeed in college." 
As a student leader and community activist, Gene participated in organizing the multi-race Committee on Better Race Relations and fiercely fought for ideals when segregation was prevalent. Through political activism, Gene took part in placing 10 demands before the University, giving way to African American studies, Mexican American studies and women's studies as well as an increasing faculty and staff diversity and financial aid for students of color. 
"I look at the University of Houston today, and I see a university that is quite different than the one I went to in the 60s," Gene said. "It's more diverse and progressive. It offers a more meaningful educational opportunity for students in many more areas." 
Building a legacy of diversity 
Decades later, Thomas Locke, Gene's son, would experience a campus that was radically and positively changed by these efforts. 
"[At the University of Houston], I got to meet an incredibly diverse swath of people. Not just ethnically or racially diverse, but people who are from different walks of life," Thomas ('19), a history alumnus, said. "Because of my undergraduate years, I was given that diversity and exposure to different cultures that I don't think I would have had otherwise."  
Thomas grew up with stories about his father's time at UH in the 1960s and draws inspiration from his parent's activism and community involvement in historical events such as the Civil Rights Movement, the Women's Movement and the Vietnam War.  
Aubrey Locke, the strategist behind multiple community projects, has served in positions ranging from a congressional aide, public school student advocate, Center for the Reform of Public School Systems coordinator and a Wheeler Avenue Baptist Church volunteer. She is dedicated to diverse social and political matters. 
"There's always been this understanding that we didn't get here on our own. We had help," Thomas said. "If we're in a position of power, authority or charge, it's our responsibility to help out as well, to give something back." 
For students questioning whether they can make a difference, the Lockes provide a powerful example of the legacy of social change. Engaged with local, nonprofit and national organizations of dramatic array, the Lockes enliven community needs often ignored.  
"I'm pleased with what I see at the University of Houston now," said Gene, longtime advocate of civic engagement and student leader. "But, there's still a lot of room for improvement. I think that work can be done. It's up to generation after generation to keep pushing the envelope to make things better."  
The Department of African American Studies Scholarship Selection Committee, in conjunction with non-AAS faculty members from the College of Liberal Arts and Social Sciences, will judge scholarship applicants based on a short statement describing their personal experience in, or goal towards, civic engagement and/or community service.  
"I encourage UH students to really get involved in what's happening in Third Ward," said Thomas. "It's a great, vibrant community that needs new blood, and so many people are afraid to get involved. It can seem a bit intimidating, but don't be afraid. It's the right thing to do."