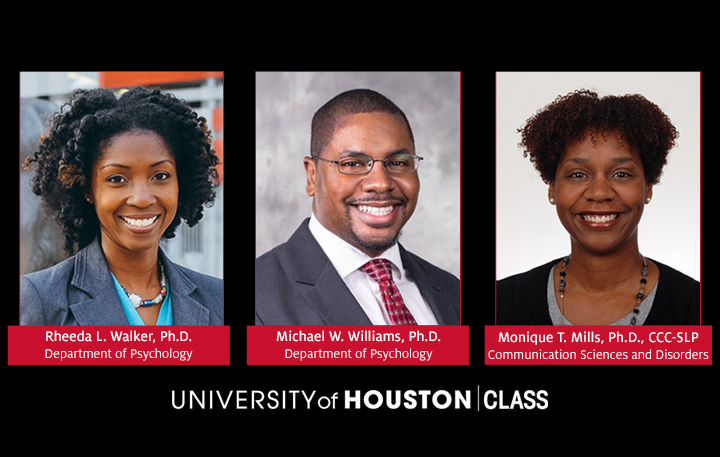 The University of Houston College of Liberal Arts and Social Sciences (CLASS) is pleased to announce that professors Rheeda L. Walker, Michael W. Williams, and Monique T. Mills, have been recognized for their accomplishments and inspiration in the scientific community and named to the list of 1,000 Inspiring Black Scientists in America.
The list was created by the Community of Scholars, a group of postdoctoral fellows, early-stage investigators, instructors and consultants committed to advancing scientific discovery while innovating the diversity, equity and inclusion initiative, and it was published in the Cell Press.
"I congratulate Dr. Mills, Dr. Walker, and Dr. Williams on this exceptional distinction recognizing their outstanding scholarship," said UH Senior Vice President for Academic Affairs and Provost Paula Myrick Short. "They represent the very best among the outstanding faculty at the University of Houston."
The Community of Scholars seeks to "dismantle the myth that outstanding Black scientists make up a small percentage of the scientific community [and] emphasize the need for continued appropriation of resources and the removal of obstacles and racial barriers to continue to amplify Black culture and talent," according to their website.   
"These three professors embody the actions and achievements that CLASS represents," said CLASS Interim Dean Daniel P. O'Connor, Ph.D. "I'm proud they have been recognized for their national excellence in research and science. The University of Houston is a tier-one research university and recognition such as this solidifies our reputation in the academic and scientific community."
Rheeda L. Walker, Ph.D., professor of Culture, Risk, and Resilience Lab and director of clinical psychology is a licensed clinical psychologist whose program of research emphasizes suicide science and African American adult mental health. Her work has focused on suicide and its correlates toward the primary goal of developing culturally-relevant models of mental health and well-being. 
Dr. Walker's research interests focus on Black and African American mental health, psychological correlates of suicide, race-related stress and discrimination, and religiosity, spirituality and culturally informed coping.
Michael W. Williams, Ph.D., assistant professor of psychology and director of the Measurement and Intervention for Neuropsychological Disorders (MIND) Laboratory is a licensed clinical psychologist. His research program goal is to improve patient centered outcomes for those who have suffered a brain injury. His research examines neuropsychological characteristics (e.g., cognition, mood, pain) that are associated with long-term functional outcomes (e.g., independence, return to work, etc.) to identify novel targets of intervention and to develop tailored interventions for optimizing medical rehabilitation and functional recovery.
Dr. Williams' research interests focus on clinical neuropsychology, rehabilitation neuropsychology, functional outcomes/ recovery, traumatic brain injury and acquired brain injury.
Monique T. Mills, Ph.D., CCC-SLP, associate professor of Communication Sciences and Disorders, examines the cognitive, social and linguistic resources that school-age African American children draw upon to narrate stories. She directs the Child Language Ability Lab, which is currently engaged in projects examining narrative assessment and dialectal code-switching between African American English and Mainstream American English.
Dr. Mills' research interests center around African American English, educational disparities, narrative assessment and school-age children.
The full list of 1,000 Inspiring Black Scientists in America can be read at the Cell Mentor website.
Cell Press publishes over 50 scientific journals across the life, physical, earth and health sciences, both independently and in partnership with scientific societies, to bring editorial excellence, commitment to innovation, unparalleled reach and visibility and passion for advocacy to all areas of scientific exploration and to publish and share science that inspires.