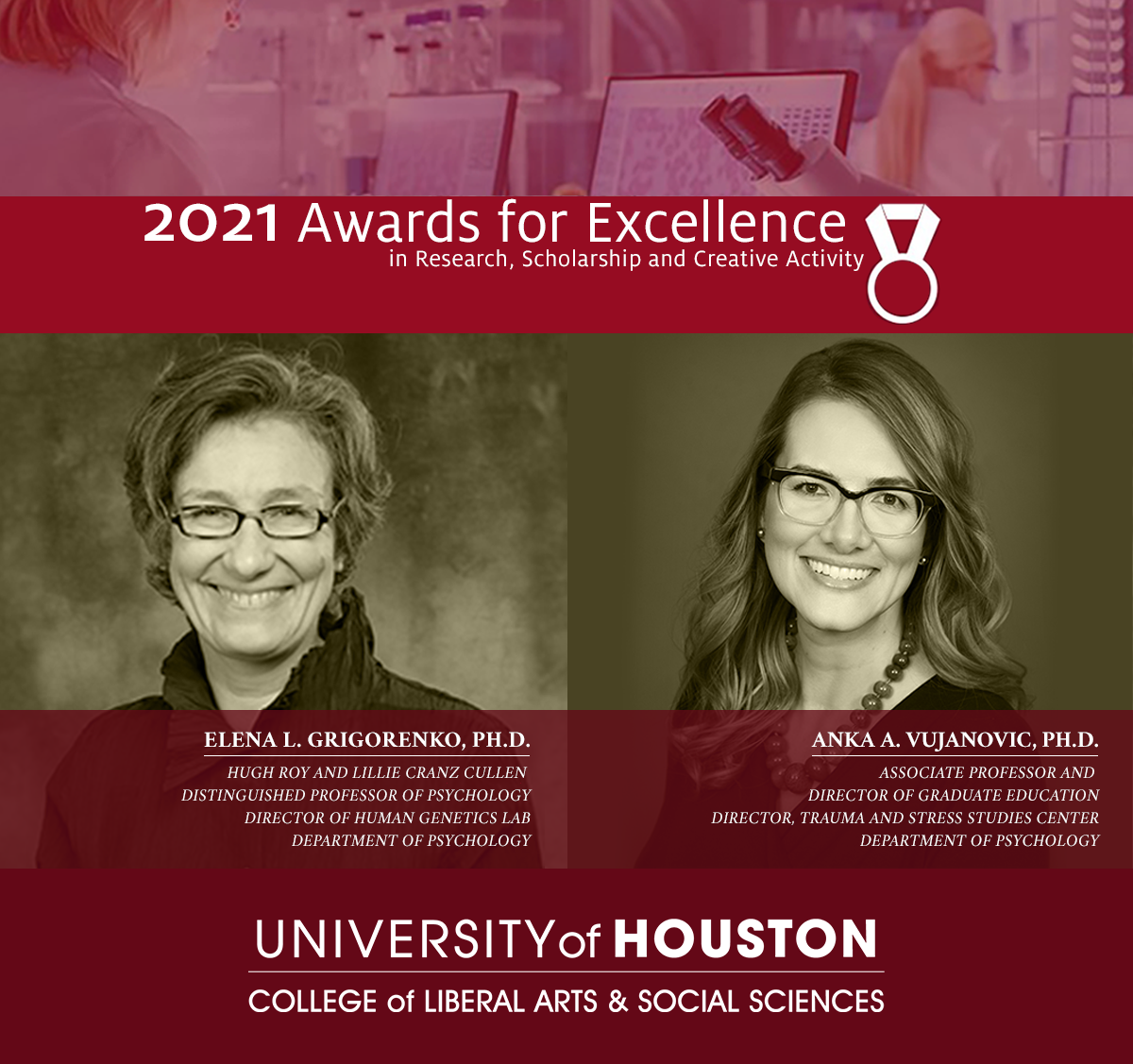 The University of Houston College of Liberal Arts and Social Sciences (CLASS) congratulates Hugh Roy and Lillie Cranz Cullen Distinguished Professor of Psychology Elena L. Grigorenko, Ph.D., and Associate Professor of Psychology Anka A. Vujanovic, Ph.D., for receiving  2020-21 Awards for Excellence in Research, Scholarship, and Creative Activity. These awards recognize UH faculty at the associate professor, assistant professor, and professor levels for their outstanding research, scholarship, or creative endeavors.
"It is my privilege to recognize Professors Grigorenko and Vujanovic for receiving these well-deserved awards," said Daniel P. O'Connor, interim dean of CLASS. "Both recipients reaffirmed their commitment to cutting-edge research and rigorous scholarship during a challenging academic year, admirably representing the College and University in all of their pursuits."
Grigorenko's award comes on the heels of a $2.2 million grant from the Office of Naval Development, awarded to Grigorenko and her colleagues for research into a virtual reality personality assessment aimed at modernizing the naval selection process. In 2020, she made history by becoming the first female editor of Psychological Review, the American Psychological Association's scientific journal. Grigorenko joined the University of Houston Department of Psychology in 2015 and has received professional awards from the National Institutes of Health, National Science Foundation and U.S. Department of Education.
In addition to her work as a professor, Vujanovic serves as director of the UH Trauma and Stress Studies Center (TaSSC) and the director of graduate education in the department of psychology. Vujanovic leads TaSSC's First Responder Program, to combat stress and improve behavioral health among first responders through collaborative team science, stakeholder partnerships and community engagement. Vujanovic has published extensive research on post-traumatic stress disorder, substance abuse and cognitive-behavioral therapy.