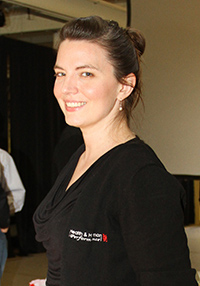 The University of Houston College of Liberal Arts and Social Sciences (CLASS) is  pleased to announce that Department of Health and Human Performance (HHP) associate professor Stacey Gorniak has been named a fellow of the American Heart Association (AHA). As the world's oldest and largest nonprofit dedicated to fighting heart disease and stroke, the AHA recognizes outstanding members for their innovative contributions in scholarship, medical practice, education, and volunteer service. Gorniak's research investigates how changes in neuromuscular control resulting from age and Type 2 diabetes affect daily life.
"I am honored to be recognized as a fellow by the American Heart Association, an organization that is deeply committed to improving health for all," Gorniak said. "I am also proud of the steps UH is taking to improve community health, particularly here in the Third Ward. Given UH's efforts in building an interdisciplinary medical school geared towards primary care and community health, I see potential to work with AHA to improve community health in the greater Houston area."
Gorniak received her AHA fellowship through the Council on Lifestyle and Cardiometabolic Health, which honors "scientists, physicians, clinical professionals and academicians with a major and productive interest in nutrition, physical activity, obesity or diabetes." Gorniak's neuroimaging studies of Type 2 diabetes have been supported by funding from the AHA and seek to shed light on the relationship between dementia and diabetes. 
"Individuals with Type 2 diabetes are two times more likely to develop Alzheimer's disease within their lifespan," Gorniak said. "My work in this area seeks to better understand how Type 2 diabetes impacts functional brain use."
Gorniak serves as chair of the AHA's Transformational Project Award Clinical Sciences Review Committee. She is also director of the Center for Neuromotor and Biomechanics Research (CNBR) at the University of Houston. CNBR aims to provide a focal point for multidisciplinary studies of human movement control.
"I am proud of Dr. Gorniak's incredible achievements in studying the complex interactions of diseases that impact so many here in Houston and around the world," said Antonio D. Tillis, dean of CLASS. "It is a privilege to witness brilliant minds, like Dr. Gorniaks' fight to improve health outcomes for all."