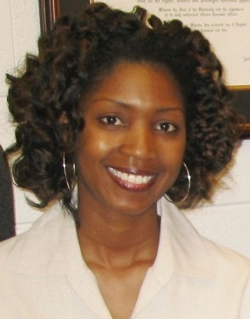 Dr. Rheeda L. Walker, associate professor of psychology, will be named an American Psychological Association (APA) Fellow in 2019. Walker, who serves as director of the Department of Psychology's Culture, Risk, and Resilience Lab, is receiving national recognition for her research into suicide prevention across ethnic groups.
The APA bestows Fellow status upon individuals who have demonstrated "outstanding contributions or performance in the field of psychology," and whose work "has had a national impact on the field of psychology beyond a local, state or regional level." Walker's research explores the prevalence of suicide in at-risk minority communities across the United States.
"I want the public to know that while the average person tends to think suicide only affects certain communities, my work is designed to address those who may be vulnerable but are often overlooked," said Walker. "This includes African Americans and others who identify as racial or ethnic minorities. For African American young adults, suicide is the third leading cause of death. Vulnerable individuals experience unique challenges that affect mental health, and the persistent erosion of protective factors in their communities should not be ignored."
During her time as an APA Fellow, Walker hopes to raise awareness of her research so that inequities in the mental health field can be addressed.
"I am honored to have been recognized by our national organization," Walker said. "I anticipate that I will have a larger platform for translating my research to the public sector. My primary goal is to put my research in the hands of those who need it most."
Walker's APA Fellow status is effective January 2019, and she will be formally recognized in August 2019 during a pinning ceremony at the APA's national convention in Chicago.