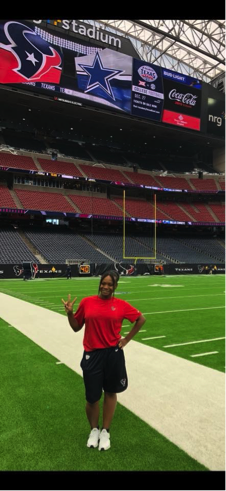 Second-year Master of Athletic Training (MAT) student Beverly Fowler is completing her clinical education assignment with the NFL's Houston Texans, and she's enjoying every moment of the experience. Fowler, a first-generation graduate student, is the first female UH student to complete her full-year clinical experience on the team's training staff, and just the second female student trainer in the 17-year history of the Texans.
"The players don't care if you're male or female," said Geoff Kaplan, head trainer for the Texans. "The players care that you know what you're doing, that you treat them with professionalism and respect, and that you're a hard worker. [Beverly's] work ethic is great. She has a really good disposition about her. She has taken it upon herself to understand when to be in the background and when she can ask questions about what to do and how to do it."
Fowler was chosen for the position after an intensely competitive application process. Her transition into the role has been seamless.
"I enjoy the sport because of how competitive it is," said Fowler. "It's a fun environment to be in. It's amazing to see how the body works and allows the athletes to do some of the incredible things they do to make plays. There is never a dull moment working in football, and I've had plenty of opportunities to better myself as an athletic trainer."
Fowler intends to make the most of her time with the team and put herself on the path toward a career in the NFL.
"I hope to gain everything I can from this experience," said Fowler. "I see this taking me toward more opportunities in the future. I don't know what my future will hold; I just know I was blessed with this internship and I will not fail anyone."
The UH MAT Program formed a strategic partnership with the Texans in 2015. Fowler has been widely praised within the MAT program as a trailblazer for female athletic trainers.
"Bev is a competitor, and she understands as a student what most don't understand as professionals," said Dr. Joshua Yellen, clinical assistant professor in the Department of Health and Human Performance. "She wants to be part of something bigger than herself and make a positive impact on other people's lives. These qualities have broken down a lot of walls and have definitely leveled the playing field for Bev and for young minority professionals to follow."
Fowler hopes she can inspire other MAT students and aspiring athletic trainers to continue breaking barriers in the field.  
"My advice would be to push through and trust the journey you're on, because it's yours and nobody else's," Fowler said. "Have a strong support system that will never give up on you. Don't let someone tell you not to try for something just because others weren't able to do it. Work hard every day and never give up! Even if it feels like you can't make it, just keep going!"