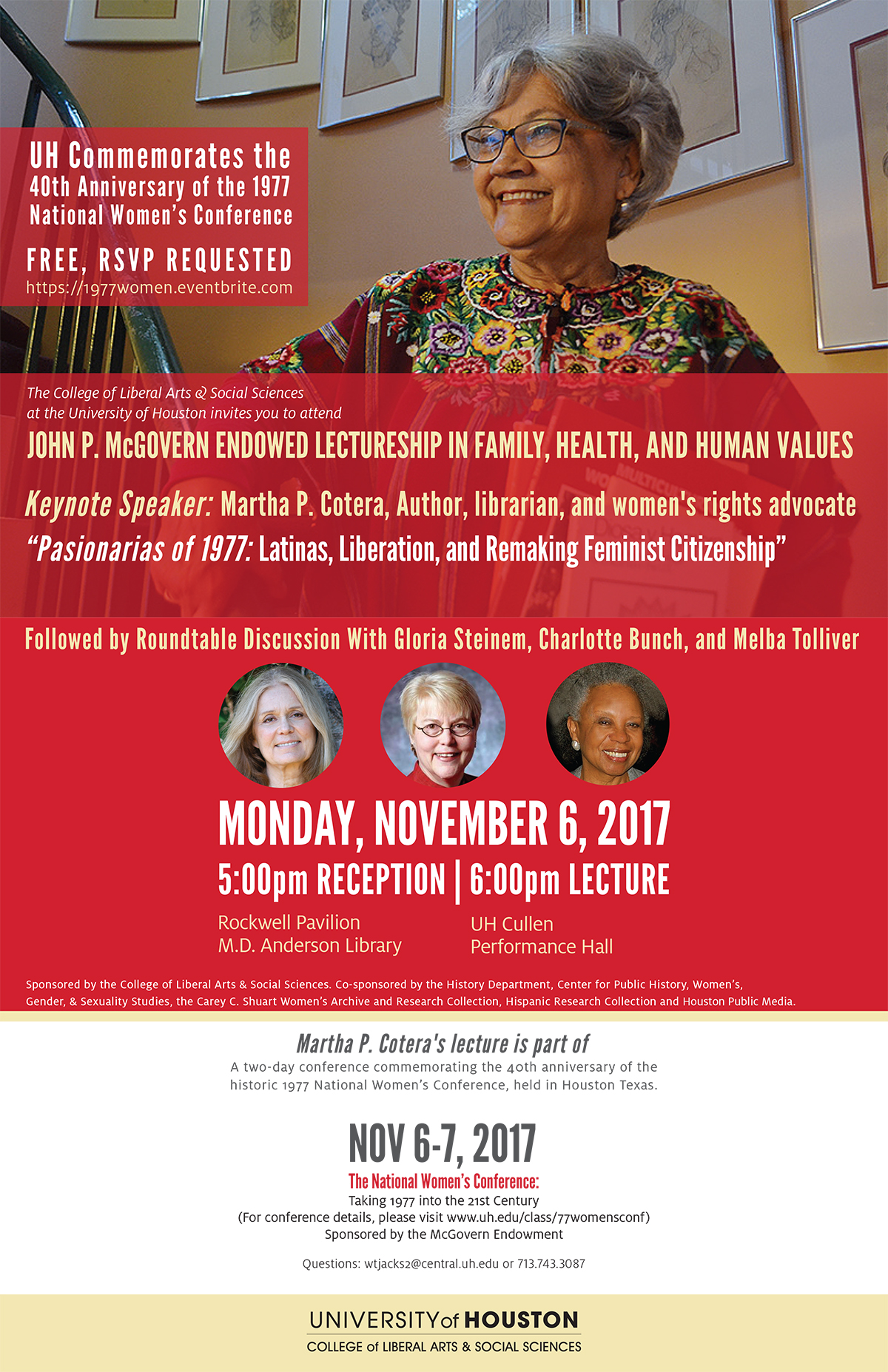 The University of Houston's College of Liberal Arts and Social Sciences, History Department, Center for Public History, Women's, Gender, & Sexuality Studies, the Carey C. Shuart Women's Archive and Research Collection, Hispanic Research Collection and Houston Public Media have invited independent scholar, renowned feminist historian, and author Martha P. Cotera to deliver the 2017 John P. McGovern Endowed Lecture in Family, Health and Human Values on Monday, November 6 at 6 p.m. in the UH Cullen Performance Hall.
Cotera's lecture serves as the keynote address for a two-day conference commemorating the 40th anniversary of the historic 1977 National Women's Conference (NWC), held in Houston, Texas.
In 1974, a presidential executive order led to the creation of the National Commission on the Observance of International Women's Year "to promote equality between men and women." Three years later, the commission's work culminated in the National Women's Conference held in 1977 in Houston. The conference brought together 2,000 delegates and over 32,000 observers to create a 26-plank "Plan of Action" that they later presented to President Jimmy Carter. Cotera's talk, titled "Pasionarias of 1977: Latinas, Liberation, and Remaking Feminist Citizenship," will provide a personal perspective into one of the most diverse conferences of American women.
Cotera's involvement with the NWC started with her election as a delegate to the Houston conference at the preliminary Texas State Meeting. Each state and territory met a few months prior to the NWC to elect delegates and deliberate the issues women faced. As such, Cotera was one of six women featured in a documentary, Las Mujeres de la Caucus Chicana, about Chicana participants at the 1977 National Women's Conference.
"Cotera's lecture brings to light the incredible outpouring of grassroots involvement in the National Women's Conference nationally. It was not an easy feat to get all kinds of women with different backgrounds and interests to come together and successfully create a highly technical and varied federal policy agenda," says Dr. Nancy Beck Young, professor of History at the University of Houston.
Special guests at the event will include Gloria Steinem, Charlotte Bunch, and Melba Tolliver who all participated in the 1977 conference. Steinem, a journalist, lecturer, and political activist, became nationally recognized as a leader in the American feminist movement.  In 2005, Steinem and fellow activists Jane Fonda and Robin Morgan co-founded the Women's Media Center, an organization whose stated purpose is "to make women visible and powerful in the media."
Bunch is the Founding Director and Senior Scholar in the Center for Women's Global Leadership at Rutgers University. For over four decades, Bunch has been an activist, writer, and organizer in the feminist and human rights movements. A 1996 inductee into the National Women's Hall of Fame, Bunch is also a recipient of the Eleanor Roosevelt Award for Human Rights.
In 1967, Tolliver became the first black person ever to anchor a network (ABC) news program in the then male-dominated field of broadcast journalism. Tolliver is currently the Howard R. Marsh Visiting Professor of Journalism at the University of Michigan, Ann Arbor, Michigan. Among her many awards include a Lifetime Achievement Award from the New York Association of Black Journalists and a National Endowment for the Humanities Fellowship to the University of Michigan.
Following the keynote address, Steinem, Bunch, and Tolliver will join Cotera on stage to engage in a broader conversation about the significance of the 1977 National Women's Conference. Steinem and Bunch both identify the National Women's Conference as a key moment for American women. Tolliver was a journalist covering the conference and thus brings a unique perspective to the conversation. Their comments and Cotera's keynote address will reveal the diverse voices of the 1977 conference and will draw attention to its development, impact, and legacy.
"Cotera has long been an influencer in Texas politics and historical preservation. Cotera helped shape The University of Texas at Austin's Benson Latin American Collection for over thirty-five years," says Dr. Leandra Zarnow, assistant professor of History at the University of Houston. "Her life's work continues to inspire. Cotera's behind-the-scenes take on the promise and difficulties of making sure all voices were heard here in Texas, is sure to provoke vibrant conversation."
Cotera has been honored with the Sor Juana Ines de la Cruz Award; the University of Texas Leadership Award; Outstanding Hispanic Historian Award; the Outstanding Historian in Women's Studies, University of Houston; RAZA Award (Friends of the MACC); the national IMAGE Award; La Luz, 100 most influential Hispanics; and recently, the National Chicano Studies/ Estrella Award for leadership in Chicano Studies.
The lecture kicks off with a reception from 5:00 – 6:00 p.m. in the Rockwell Pavilion of the MD Anderson Library. The keynote address starts at 6 p.m. This event is free and open to the public.
John P. McGovern Endowment was established in 1999 and supports the John P. McGovern Annual Award Lectureship in Family, Health, and Human Values in CLASS at UH. The series focuses on speakers with notable expertise in the area of family, health and human values. Each speaker is presented with the John P. McGovern Award Medallion.
What: John P. McGovern Endowed Lecture
Author, librarian, and women's rights advocate, Martha P. Cotera
"Pasionarias of 1977: Latinas, Liberation, and Remaking Feminist Citizenship"
When:  Monday, November 6
Reception: 5:00 – 6:00 p.m.
Lecture & Roundtable Discussion: 6:00 – 8:00 p.m.
Where:
Reception: Rockwell Pavilion in the MD Anderson Library
Lecture & Roundtable Discussion: UH Cullen Performance Hall
Who: Free and open to the public. RSVP requested