Dr. Tatcho Mindiola's retirement event celebrated his legacy on campus and in Houston
Civic leaders praise Dr. Mindiola' s leadership of the Center for Mexican American Studies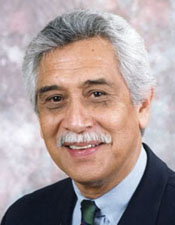 The retirement celebration for Dr. Tatcho Mindiola was more than a family affair.
On August 28, elected public officials, UH leaders and more than 400 people came to the Rockwell Pavilion in the M.D. Anderson Library to pay tribute to Dr. Mindiola and his commitment to the University of Houston as an alumnus, Professor Emeritus of sociology, and director of the Center for Mexican American Studies for 34 years.
"Although he will not be on this campus, he is not going away. Great people do not fade away," said Lorenzo Cano, the Center's associate director.
Texas State Representatives Carol Alvarado and Armando Walle shared during the formal ceremony of the celebration how Dr. Mindiola offered them guidance when they were UH students, getting their first taste of social justice advocacy and community organizing on a grassroots level.
"You allowed us to be who we wanted to be," said Rep. Alvarado, who first was tutored in activism by Dr. Mindiola when she was a high school student at Austin High School in Houston. "It didn't matter if we failed because we tried and we fought. We were young advocates."
"I'm living the dream," Rep. Walle said. "I have the ability to influence public policy, influence other people, to influence my family and it would not have happened if we did not have CMAS, that incubator of knowledge, that incubator of activism."
Chancellor and President Renu Khator delivered warm remarks praising Dr. Mindiola's legacy as a one of the UH faculty members who helped to launch Mexican American Studies as an area of study at the University of Houston in the early 1970s.
Dr. Khator also read a special University of Houston resolution that recounted Dr. Mindiola' s many accomplishments as a sociologist and center director and declared August 28, 2015 as Dr. Tatcho Mindiola Day on campus. She also joked that she might not sign the paperwork approving his retirement that took effect August 31.
David Medina, head of the City of Houston Mayor's Hispanic Advisory Committee, announced the launch of the Tatcho Mindiola scholarship fund and Houston City Councilman Robert Gallegos read a proclamation that also declared August 28 as Tatcho Mindiola Day in the City of Houston.
College of Liberal Arts and Social Sciences Interim Dean Steven G. Craig said Dr. Mindiola "was one of the academic entrepreneurs who helped to build UH."
He was the first speaker – but certainly not the last – to share the story of how Dr. Mindiola successfully advocated for the Texas Legislature to add a line item to its budget to provide dedicated funding for the growth and advancement of the Center for Mexican American Studies at the University of Houston.
"Tatcho has always been a voice when we needed someone to speak up," said Texas State Senator Sylvia Garcia.
Ramon Martinez, president of Greater Houston Transportation Co., is the former Texas state representative who submitted the bill that got CMAS funding from the state legislature. He summed up the overwhelming sentiment in the room when he said, "Everyone in this room has been affected by this man Tatcho Mindiola. This man has the incredible ability to enroll you into his mission."
That mission since the 1970s has been to get more Chicano, more Latino and more Hispanic students to enroll in and graduate from the University of Houston and increase the number of Chicano, Latino and Hispanic UH faculty and staff members.
UH's federal designation as a Hispanic Serving Institution – one of only three research-intensive universities in the United States to carry the HSI designation – is proof of the success of Dr. Mindiola' s lifetime work.
Mr. Martinez also announced the start of another donation fund:  "The greatest tribute we can give this man is a cement tribute – let's build a building for the Center of Mexican American Studies."
The crowd endorsed that idea with a standing ovation.
At the end of the celebration, Dr. Mindiola shared his own remembrances, including a story about an encounter a few years ago at Houston high school with a former student who said, "You're still doing this? I can't believe you're still doing this."
"I didn't understand what she meant so I said, 'What do you mean,'" Dr. Mindiola said. "She said, 'This Mexican thing.'
"So I thought about what she said and I told her, 'Well, I'm a professional Mexican – I advocate for us. That's what I do. I teach courses in Mexican American Studies.  I run a program in Mexican American Studies.  I go on television to talk about Mexican American Studies. And believe me, sometimes, I went home at night and I was tired of being a Mexican. Then, I'd get a good night sleep and the next morning I was ready to be a professional Mexican again."
- By Shannon Buggs
Related Links