Center for Public History looks forward to commemorate its 30th anniversary
Teaching and research center builds on past accomplishments to plan for future success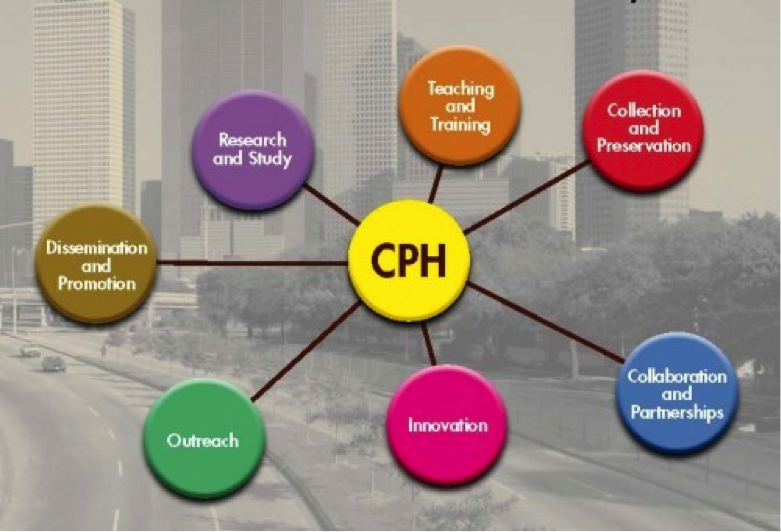 The Center for Public History is celebrating 30 years of being a vital resource for collecting, preserving, and sharing the important artifacts and stories about the University of Houston, the City of Houston and the United States.
As the center marks this milestone by looking back on their accomplishments, the CPH's students, faculty and staff are also looking ahead to the center's continued growth.
"The center is always evolving," says Dr. Martin Melosi, executive director of the Center for Public History. "Without moving forward, we will stagnate. We want to be continually relevant to the history scene in Houston."
As a teaching center, CPH provides graduate students with an opportunity to apply their training and skills through curated internship programs. CPH graduate students have earned internships and jobs in a wide array of cultural, publishing, educational, government, and business venues.
"We are revising our Public History graduate program to focus more explicitly on 'hands-on' experience in the community," Dr. Melosi says. "We will also continue to attract pre-dissertation and post-doc students and visiting faculty in areas of our interest including energy and environment, food studies, and racial and ethnic diversity."
The center's research strengths led to its sponsorship of two international workshops on energy economies:
"Energy Capitals: Local Impact, Global Influence" in 2010 at UH. It investigated the economic, educational, environmental, and public health impact of energy production and distribution on cities and regions around the world heavily invested in the global energy sector.
"Energy Resources: Europe and Its Former Colonies" in 2012 at Ludwig Maximillians University in Munich, Germany and in partnership with the Rachel Carson Center for Environment and Society. It examined the relationship between European nations and their former colonies with respect to energy resources, the development of energy industries and their environmental impact, and global perspectives on the postcolonial dimensions of energy resources.
CPH thrives on working with community partners, including non-profits, corporations, community groups, and government agencies, as well as collaborating with faculty from programs and departments across campus creating a multidisciplinary platform for collaboration and research.
"We're continuously looking to expand our outreach activities, and we're affiliating with other organizations - including our newest collaborator, the Houston History Association - to do so," says Dr. Melosi.
CPH is home to numerous ongoing projects including the Welcome Wilson History Collaborative, which expands and improves the research done on Houston, and the Gulf Coast Food Project, which promotes the rich history of the foods we grow, eat, and share in Houston and the Gulf coast region.
The center also sponsors the triannual Houston History magazine. The current issue celebrates the Center's 30-year history and includes a retrospective by Dr. Melosi.  (For hyperlink: http://houstonhistorymagazine.org/)
Other CPH projects include the online exhibits, "To Bear Fruit for Our Race," which tells the story of Houston's first African American physicians, and "Wednesdays in Mississippi: Civil Rights as Women's Work," a website exhibit which preserves the legacy of the only civil rights project organized by women for women as part of a national women's organization.
As the CPH marks three decades of existence, Dr. Melosi looks forward to CPH's continued evolution. He says, ""The CPH will continue to grow because of our attention to expanding outreach activities that will take us into even more projects yet to be identified."
-        By Monica Byars and Maria Corsi