History, Business Professor Joseph Pratt awarded state teaching honor
Piper Award from the Minnie Stevens Piper Foundation recognizes superior college teaching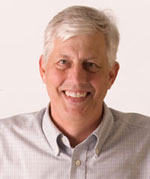 Of the many titles Joseph A. "Joe" Pratt carries — professor, historian, researcher, scholar, writer — he is proudest of one in particular: teacher. 
"My approach to undergraduate teaching incorporates basic principles I learned from master teachers as I went through college," he said. "Know what you're talking about. Know your students, and overwhelm them with enthusiasm for ideas and for learning. "
Pratt, the National Endowment for the Humanities and Cullen Professor of History and Business, has been awarded the 2014 Piper Professor Award from the Minnie Stevens Piper Foundation. The prestigious honor recognizes superior teaching at the college level in Texas. 
"I felt called to teach, and I have never doubted that I found my true calling," he said. 
Participation in the Piper Award Nominations is by invitation only, and candidates must be nominated through their university president's office. Only one nomination from an institution may be submitted in the nomination year. The award carries a $5,000 honorarium.
"Dr. Pratt is a highly respected, award-winning professor who has made significant contributions to student success.  He is a great asset to the University of Houston," said Paula Myrick Short, UH senior vice chancellor/senior vice president for academic affairs and provost.
Renu Khator, UH System Chancellor and UH President, presented Dr. Pratt with the award in ceremonies on May 15. 
"We were pleased to be able to nominate someone of Professor Pratt's high caliber and gratified that he has been recognized with this prestigious award," Khator said. "This honors him individually, and it reflects the overall quality of the teaching offered at our institution."
Each year, the Minnie Stevens Piper Foundation chooses 10 outstanding Texas educators for this honor. A Texas-based nonprofit organization founded in 1950 for the purpose of supporting charitable, scientific and educational undertakings, the foundation began recognizing Piper Professors in 1958. Dr. Pratt is the 11th professor from UH to receive this honor. A UH professor has received the honor for three consecutive years.
Dr. Pratt says the University of Houston is his home and he feels fortunate to have found it.
"It's the perfect place for me to teach.  Our students are extraordinarily diverse, hard-working and ambitious," he said. "By showing them their own potential and providing them with a little help and encouragement when they most need it, I make good use of my best self."
Dr. Pratt has been teaching for 38 years, with 28 of those years being a UH professor. His intellectual rigor helped him become a well-respected scholar in two disciplines, business and history, who teaches small graduate-level seminars, as well as survey courses that attract as many as 500 underclassmen.
His dedication to student success is evident in five UH teaching awards, participation on more than 30 Ph.D. committees, and past appointments to serve as chair of the Department of History and interim dean of the College of Liberal Arts and Social Sciences. 
"Dr. Pratt is a master educator and communicator, and our students are richer for his being in the classroom," said Daniel Currie, clinical assistant professor at the Bauer College of Business. "He draws upon his three decades of face-to-face interaction with energy professionals, the last four chairmen of Exxon for example, to impart insights that have undeniable impact on our students."
Dr. Pratt is the director of the Energy and Sustainability minor at UH, a program he created and personally recruited professors to teach its courses and students to take them. But he says the most fulfilling job he's ever had was as director of the UH Scholars' Community, a freshman retention program in the late 1990s, which he also created.
"Like many of our students, I was the first in my family to graduate from college," he said. "Students often saw enough of themselves in me to pay attention to my mini-sermons on the need to take themselves seriously and learn how to survive, then prosper, in college."   
As head of the UH Scholars Community, Dr. Pratt developed special courses for new college students on study habits and student success; a "drop in" program to prevent those in danger of failing of freshman history from dropping out; and set up mentor, tutor and course review programs.
"We helped students learn to succeed in college with a heavy dose of personal responsibility mixed with assurances that if they needed help, we would provide it," he said.
His retention efforts extended to the teaching assistants whom he shepherded as they learned to be effective classroom teachers.  He calls retention his hardest fought success. 
"I see such retention measures as extensions of my previous efforts as a teacher to break down the anonymity of the large auditorium," he said.
Dr. Pratt's commitment to student success has not deterred him from his own research. He is the author of a dozen books and numerous articles, primarily about energy history or the history of Houston.
He also serves as director of the Welcome Wilson Houston History Collaborative (formerly the Houston History Project). In this capacity, he oversees several projects, including Oral History of Houston, the Houston History Archives, UH Memories Documentary Films and Houston History Magazine.
Students work with Dr. Pratt and other faculty and staff to conduct scholarly research on various aspects of the city of Houston. The project trains and employs both graduate and undergraduate students, many of whom go on to pursue careers in history.
"Not only was he an exceptional teaching professor, but he was a model for me and many others as we sought to develop our own academic teaching styles," said Dr. William H. Kellar, historian and former student of Pratt. "Perhaps his greatest legacy is with the graduate students who have since become professors. I am a beneficiary of his dedication."
- By Marisa Ramirez