2014 Public Official of the Year Award Winner:
Mario Diaz, Head of the Houston Airport System
Diaz leads City of Houston Aviation Department and its 3 airports and 1,300 employees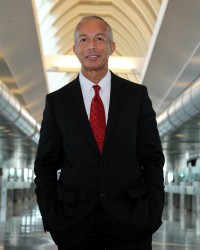 Mario Diaz, director of the City of Houston Department of Aviation and a leading authority on the future of commercial aviation, was named the 2014 Public Official of the Year by the UH Master of Public Administration Program.
At a recent luncheon, Diaz was honored for his overall management of the Houston Airport System's three aviation facilities – George Bush Intercontinental Airport, William P. Hobby Airport, and Ellington Airport – and its more than 1,300 employees.
"The Houston Airport System is working extremely hard to establish itself as a 'high performance organization,' capable of anticipating the needs of customers and then turning those expectations into reality," says Diaz. "I am extremely proud to say that throughout 2013, the 1,300 employees that make up the Houston Airport System made incredible strides in that regard and this honor is a direct reflection of their hard work and commitment."
Dr. James Thurmond, director of the Master of Public Administration program, said one major factor in the decision to honor Diaz was his effort to assist Southwest Airlines in obtaining international capacity at Hobby Airport.
"That is important because that initiative took a lot of collaboration between several entities, including the Federal Aviation Administration, the airlines, and the city and surrounding community," Dr. Thurmond said.
Diaz is also credited for Intercontinental Airport welcoming the first Airbus A380 to Texas. The airport underwent an aggressive makeover to handle the double-decker jet.
"The addition of the A380 ensures that international traffic will be able to grow in Houston," said Diaz in an announcement about the Airbus. "We expect to see more choices for travelers who are flying to Africa and the Middle East as they enjoy this new aircraft."
Houston's international growth was also a topic of the keynote speech during the luncheon, delivered by James Calaway, chairman and co-founder of the Center for Houston's Future.
"Houston is emerging on the scene to be a great global city," said Calaway. "We're not there yet, but we are becoming a global competitor."
Calaway detailed an initiative that the Center for Houston's Future is rolling out which he hopes will allow Houston to increase its international presence. The organization selected 20 international cities, and examined those city's policies in areas such as art, culture, healthcare, education, diversity, public safety, and environmental protection.
"We wanted to look at our competition and see what they are thinking about," said Calaway. "If we address some of these public issues, we will take our rightful place in the world."
Diaz's professional career gives him insight into how Houston can capitalize on its strengths and adopt best practices from other cities.
Prior to joining Houston Airport Systems in 2010, Diaz was the deputy general manager for Atlanta's Hartsfield-Jackson International Airport, where he supervised the daily operations at the world's busiest airport for more than a decade.
Before that, he had a 17-year career with the Port Authority of New York and New Jersey that included key management positions in leasing, finance, marketing, operations and properties. During that period, he had leadership position John F. Kennedy, Newark Liberty International and Teterboro airports.
A native of Barranquitas, Puerto Rico, and a licensed private pilot with instrument certification, Diaz earned his Bachelor of Arts degree from Rutgers University in Newark, New Jersey. He also earned a Master of Business Administration in finance from Rutgers Graduate School of Business Administration in New Jersey.
Diaz was one of five finalists for the Public Official of the Year award. The other nominees were Mike Alford, District Engineer for the Houston District of the Texas Department of Transportation (TxDOT), Julie M. Robinson, City Administrator of Dickinson, Texas, Dottie Kaminski, Councilmember at Large, City of La Porte, and Allen Bogard, City Manager, City of Sugar Land. Last year's winner was retired NASA administrator Michael Coats.
Requests for nominations for the Public Official of the Year award were distributed last fall. Once nominations were received, the selection committee (which includes MPA alumni, one MPA student, Dr. Thurmond, and a former Public Official of the Year winner) narrowed it down to the finalists before Diaz was ultimately named the winner.
Dr. Thurmond said the purpose of the annual event is to recognize the importance of the efforts made to improve citizens quality of life made every day by public officials.
"Everyone is attentive to mistakes, he said," but we want to celebrate and honor good public service. The winner and the finalists are great examples of public servants, but the idea of the award is bigger than them, because it is about the efforts by our public officials for the betterment of our community."
- By Monica Byars