Student Spotlight: Shunte Lofton, School of Theatre & Dance
Junior acting major one of only two undergraduates in 2013 Houston Shakespeare Festival cast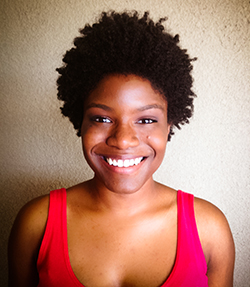 The science and research programs at University of Houston lured Shunte Lofton to enroll here as a freshman. Her plan was to earn a degree in biology and pursue a career in the medical field.
To lighten her heavy science course load, she enrolled in a beginning acting class for non-majors in the School of Theatre & Dance – and fell back in love with acting.
"I saw all of the theatre productions and I realized how great the program was and how much I missed acting," she said. "I first became interested in theatre when I was in the fourth grade, but did not do anything theatre related until I was in the sixth grade. I was too shy to sign up for any classes at the community theatre or to go to the auditions. Finally my mother forced me to go and I am so happy she did!"
An introverted child, she moved frequently to accommodate her father's Air Force career. She attended three different high schools before graduating from high school in Medford, New Jersey, she then moved to Houston to attend UH.
By the end of her freshman year, she had changed her major to acting.
Transitioning from a future career in science to a future career in theatre wasn't easy. Her parents were supportive of her wanting to change majors, but they were also concerned that it would take her a long time to build a financially-stable acting career. Despite the unpredictability, Lofton says acting is her true calling and, as William Shakespeare wrote, "to thine own self be true."
Her prior on-campus theatre experience includes Paradise Hotel, Mother Courage and Her Children, The Crucible, The Trial of Ebenezer Scrooge, and Wild Oats.
This summer, as part of the Houston Shakespeare Festival, Lofton played the role of Iras in Antony and Cleopatra and she was a Forrester/Musician in As You Like It.
Since its inception in 1975, the Houston Shakespeare Festival has grown into one of the major events on Houston's summer entertainment calendar. The event is a project of the University of Houston School of Theatre and Dance and features professional guest actors alongside rising talent.
For the 2013 event, Anthony and Cleopatra was directed by guest artist Leah C. Gardiner and As You Like It was directed by guest artist Marc Masterson. Visiting actors included Seth Gilliam, Chris Hutchison, Crystal Dickinson and Brandon Dirden.
Lofton was one of only four UH students who were selected for the Houston Shakespeare Festival cast. Joining her were a senior and two second-year Master of Fine Arts students.
"For Antony and Cleopatra, I tried to really understand what I was saying and why," said Lofton. "I looked up information about the Egyptian lifestyle and read through the information packet that the dramaturgy team created. I would practice how my character would sit, walk, eat and flirt."
Lofton did not have many speaking parts in As You Like It, but she did play her violin in the production.
"I practiced the music for the show as much as I could before, during, and after rehearsals," she said. "Even though I did not speak much, I still did character work for As You Like It. I gave myself a name and a back story so I wouldn't (in my mind) just be a Forrester/Musician."
This was Lofton's second summer participating in the Houston Shakespeare Festival. In 2012, she served as assistant director for Comedy of Errors. As a student, taking part in the Houston Shakespeare Festival has provided Lofton with a valuable education.
"I learned so much from everybody and was glad that I could talk to anyone if I needed help," she said. "I had an amazing time being a part of the show. The experience gave me the excitement that I needed for this upcoming school year and my future acting career."
- By Monica Byars