Breakthroughs and shutdowns, Public Official of the Year has strategies for both
Retired NASA administrator Michael Coats honored with award by MPA program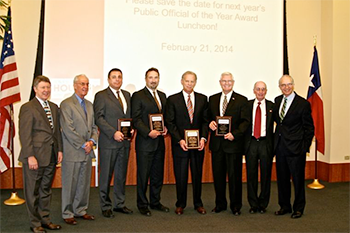 From L to R: Ed Emmett (Harris County Judge), Peter Brown (President, Better Houston), Jeff Braun (Emergency Mgmt. Dir. Fort Bend County), Scott Elmer (Asst. City Manager - Missouri City), David Feldman (Houston City Attorney), Michael Coats (Former NASA JSC Director), James Thurmond (UH MPA Program Director), and Jeff Moseley (TX Transportation Commissioner).
U.S. space shuttles orbited the Earth during a 27 year period that ended last year. Michael Coats was there when space shuttle flights began and when the last shuttle landed.
As an astronaut, Coats was the pilot for the inaugural space flight aboard a shuttle, Discovery, in 1984. As director of the Lyndon B. Johnson Space Center, he was the top administrator at NASA's astronaut training center when the Space Shuttle program ended in 2012.
At a February 22 luncheon, Coats was honored for capping off his long career in public service with the difficult task of guiding Johnson Space Center astronauts and staff through the transition away from manned space flight.
He was named the Public Official of the Year by the Master of Public Administration Program.
"It has always been challenging to be a public official," Coats said in his acceptance remarks. "Now, with modern social media, instead of seeing a letter to the editor, or receiving a personal letter, you get millions of people making comments… which makes life a little more interesting for us public officials." 
Coats provided strategic leadership that benefited both NASA and the Houston economy to minimize the impact of the closure of the three-decades-old Space Shuttle Program. He mitigated potential job loss by partnering with community leaders and local contractors to hold three large-scale community job fairs, which resulted in many new jobs for JSC team members. He also spearheaded the formation of three strategic collaborations between Johnson Space Center and the Bay Area Houston Advanced Technology Consortium, the Houston Technology Center, and the Greater Houston Partnership.
"There is so much negativity sometimes about public service and the government sector that it doesn't seem like individuals in that field can do anything right," said Dr. James Thurmond, director of the MPA program. "Yet so much of what we do every day depends on their service. Public service is important and should be appreciated."
Transportation was an underlying theme of the luncheon. Both the award winner and the keynote speaker were experts in getting people to their destinations and back home safely, in space and here on Texas roadways.
Jeff Moseley, Texas Transportation Commissioner, delivered the keynote speech, which included reflections on  a transportation summit that he attended in Austin. During the summit, Moseley met with industry experts and futurists where he discussed future transportation needs that will accommodate a growing state population.
"Over the next 30 years, it is suggested that Texas may grow from 25 million to 50 million people," said Moseley. "During the summit, we saw a Google car that had driven 100,000 miles without a driver – and only had two accidents. This is the direction we will be going. Self-driving automobiles will be able to get closer to each other and manage the capacity of the roadways better than we can."
According to Moseley, the flying cars featured in the 1962 cartoon The Jetsons, could be a realistic model. That cartoon was set in the year 2062. Moseley said that futurists predict that the current self-driving car technology could eventually allow vehicles to take flight and get individuals where they need to go.
"It's tempting to assume all the solutions have been thought of," said Moseley. "But we have to remember that there are some wonderful breakthroughs just over the horizon."
Coats was one of four finalists for the Public Official of the Year award. The other nominees were Jeff Braun, Fort Bent County Emergency Management Coordinator, Scott Elmer, Missouri City Assistant City Manager, and David Feldman, City of Houston City Attorney. Last year's winner was Daniel Krueger, head of Houston's Public Works.
Requests for nominations for the Public Official of the Year award were distributed last fall. Once nominations were received, the selection committee (which includes MPA alumni, one MPA student, and last year's winner) narrowed it down to the four finalists before Coats was ultimately named the winner.
Coats graduated from Annapolis in 1968 and went on to fly 315 combat missions in the Vietnam War. He continued his education by earning a Master of Science in Administration of Science and Technology from George Washington University in 1977, and Master of Science in Aeronautical Engineering from the U.S. Naval Postgraduate School in 1979. He was selected as an astronaut candidate in 1978, and became a NASA astronaut in 1979. After logging more than 463 hours in space, Coats retired from the U.S. Navy and the Astronaut Office in August 1991 and joined the corporate arena.
He served as Vice President of Avionics and Communications Operations for Loral Space Information Systems, Vice President of Civil Space Programs for Lockheed Martin Missiles and Space in Sunnyvale, California, and Vice President of Advanced Space Transportation for Lockheed Martin Space Systems Company in Denver, Colorado before returning to NASA in November 2005 to serve as Director of the Lyndon B. Johnson Space Center in Houston. He retired in December 2012.
"I'm thankful to the University of Houston MPA program for this award," said Coats. "It has been a pleasure for me to be able to work with such a fantastic team at the Johnson Space Center."
The underwriter of the luncheon was Peter Brown, founder of the nonprofit BetterHouston, and a member of the College of Liberal Arts and Social Sciences Dean's Advisory Board.