MPA student elected to Pasadena City Council
Graduate student Cody Wheeler applies what he's learning to campaign trail to win seat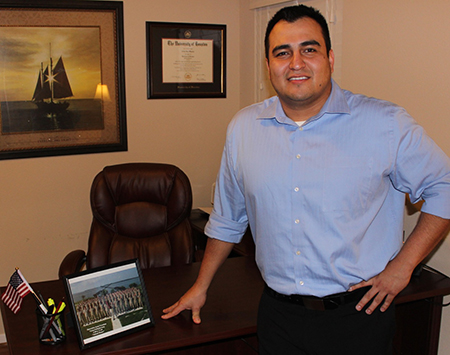 What Cody Wheeler is learning about public servant leadership as a graduate student in the Master of Public Administration program, he has successfully applied to his career goals.
In May, Mr. Wheeler was elected to the Pasadena City Council – unseating an incumbent with a margin of victory of less than three dozen votes.
 "We just worked really hard," said Wheeler. "I had a positive message and I knocked on doors four days a week for 8-10 hours a day. I wanted to meet with all the people in the district that I could.
"My personal cell phone number was on all of my flyers, so I am very accessible to the citizens of Pasadena."
Those grassroots campaign tactics reflect the leadership style taught in the MPA program. Communicating directly with the public gives elected, appointed and hired public servants the information they need to craft plans that work.
"In the Masters of Public Administration Program, we don't teach answers," said Dr. James Thurmond, Director of the MPA program. "We teach answering methodologies or how to solve problems."
The MPA program is designed to provide higher levels of training and education for pre-service and in-service public managers, public policy analysts and public officials to address major public policy issues in a metropolitan scenario.
Some of the problems Mr. Wheeler plans to address as a member of the Pasadena City Council are the condition of local roads, the city's drainage issues and improving local parks. He believes parts of Pasadena have been deprived of needed attention.
 "Mr. Wheeler's approach to the classroom and the theory blends very well with what we teach," said Dr. Thurmond. "We wish him the best of luck in his new elected position, and expect him to bring more real world experiences into the classroom."
Wheeler credits University of Houston for giving him a strong foundation, and the connections, on which to build his future.
"I don't doubt my capabilities," he said. "University of Houston gave me the education that makes it possible for me to step in and excel at this role."
Mr. Wheeler and his siblings grew up in Pasadena and attended the public schools in the city adjacent to Houston, its Ship Channel and Galveston Bay. His father worked at one of many refineries in Pasadena and his mother worked at a nearby Wal-Mart.
After finishing high school, Mr. Wheeler enlisted in the U.S. Marine Corps.  He served for four years and completed two tours of duty in Iraq. He completed his commitment to the Marines as a sergeant decorated with multiple awards including the Combat Action Ribbon, Iraqi Campaign Medal, and the Good Conduct Medal.
After his military service, Sgt. Wheeler chose to attend the University of Houston.
"My brother was attending UH. I liked what he was learning and I wanted to be a part of that," he said. "I completed my undergraduate degree in political science, with a minor in philosophy, in 2011." He graduated Cum Laude with honors.
Today, in addition to studying for his master's, he works full time for the State Comptroller's Office as a Tax Compliance Officer.  He will continue in that position after he is sworn in September.
"The MPA program is eye-opening and has taught me the practical approach to governance," said Wheeler. "It's where 'the rubber meets the road.'"
- By Monica Byars