Sociologist Jennifer Augustine awarded $160,000 NIH research grant
She will study whether and how the education of a mother affects her children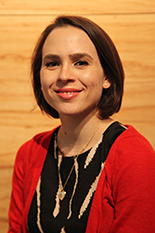 As Americans, we are often told that education is the key to success. The more education you receive, the better your life – and the lives of your children – will be.
However, does it matter at what point an individual decides to pursue a higher education? How does a parent earning a degree after having children affect the trajectory of the child's life?
Dr. Jennifer M. Augustine, assistant professor of sociology, has been awarded a $160,000 National Institutes of Health grant to spend the next two years researching answers to those questions.
"I've always been interested in the causal effects of education," said Dr. Augustine. "Now I have the opportunity to study how education changes people and affects their child rearing practices."
Dr. Augustine is the sole principal investigator on this project which is titled, "Mother's Education after Childbearing and Family Well-being." She will examine whether and how the education of a mother affects her children.
"Specifically, I will study women who pursue higher education after having children," she said. "I want to find out if the children improve academically, behaviorally, and physically and how that correlates with the mother's education."
Dr. Tracy Xavia Karner, chair of the Department of Sociology said of Dr. Augustine's NIH research grant, "It is quite an honor for Dr. Augustine to receive this award at such an early point in her career. It is an impressive accomplishment."
Dr. Augustine earned her Ph.D. in Sociology from the University of Texas at Austin in 2011. Following the completion of her doctoral work, Dr. Augustine was a postdoctoral fellow in the Department of Sociology at Rice University. She joined the University of Houston as an assistant professor in the Department of Sociology last fall.
Dr. Augustine will be collaborating with Dr. Ariel Kalil, a developmental psychologist and professor from the Harris School of Public Policy at the University of Chicago. Their varying backgrounds mean that they will each approach the research from her own unique area of expertise.
According to Dr. Augustine, the project will attempt to accomplish three things:
Describe the life course characteristics of mothers who return to school
Estimate the long-term and short-term implications of mothers' schooling on their children's health and health-related outcomes
Determine whether the links between mothers' additional schooling and child outcomes are affected by the mothers' post-schooling employment experiences, health, and parenting behaviors.
To draw her conclusions, Dr. Augustine will use information gathered from two well-known sources—the National Longitudinal Survey of Youth and the Fragile Families and Child Well-being Study.
"These studies offer a rich body of data," said Dr. Augustine. "They provide across the board representation of individuals from varying demographics."
At the conclusion of her study, Dr. Augustine will submit an article to be published in a peer reviewed journal, and write a policy brief outlining the results of her research that can be used to shape future government programs related to education. All of the material will become the basis for a book.
"This award validates the rigor and importance of Professor Augustine's work," said Dr. Karner. "This NIH award will allow Professor Augustine to continue her very important work and will increase her competitiveness for further federal funding in the future."
- By Monica Byars