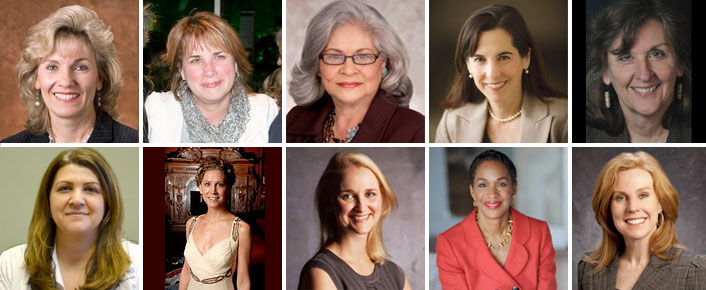 Fifteen years of conversation and celebration
Annual Table Talk event encourages women to share the stories of their lives
It's hard to believe it's been fifteen years since the first Table Talk luncheon happened in the UH Alumni Center in 1998. The Friends of Women's Studies guild had been evolving ideas for an event combining a celebration of women's accomplishments with fundraising in support of the program and the Women's Archive and Research Collection.
The Friends are working women and stay-at-home moms, local legends and ordinary folk—all of them sharing an interest in women's history and in advancing women's progress. All these energetic, innovative women bring their own networks, skills and ideas to the Friends.
One of those outstanding ideas was to start a luncheon using the "table talk" model – an informal discussion over a meal led by a noteworthy Houston woman. We realized that women telling their own stories in conversation with other women would be a spellbinder.
Not only were these stories flush with the special intimacy of the personal history, but they were in themselves an entirely new kind of story. These stories of women with access to education and a path into the new world of expanded work options had never been told before.
They needed sharing, not just as heroic narratives to be admired, but as examples or points of departure to the other women at the tables, many of whom were in the process of working out their own version of the new story of modern womanhood.
Chairs Sandy Maun and Karen Wildenstein opened the occasion with aplomb, explaining the ground rules to the group. Then we were off and talking, intensely.
Among the 25 women from diverse fields and backgrounds honored that first day were Susan Bischoff, assistant managing editor of the Houston Chronicle; anchorwoman Shern-Min Chow; State District Judge Carolyn Garcia; Texas historian Patricia Smith Prather; Sandy Stromberg, director of Brigid's Place; and Dianne Teas of Teas Nursery.
Ideas were shared, failures learned from, guidance given, hopes encouraged, possibilities modeled. By the time that first hour passed, we knew we were on to something wonderful. The energy in the room was electric and no one wanted to leave. We were all in it together.
And we still are.
This year co-chairs Sharon Michael Owens and Beverly Robinson and FWS President Susana Monteverde set the tone with style and passion, reminding the group of 52 conversationalists and 468 guests that we were there to raise funds to provide women students with the tools to keep the progress going. Our distinguished table talkers included:
Oil industry CEO Cindy Taylor
Discovery Green Programming Director Susanne Theis
the Houston Defender's Yvette Chargois,
Authors Claudia Kolker and Karleen Koen
Veterans Administration Internist Dr. Rola El-Serag
Interior designer Courtney Hill Fertitta
Houston Center for Photography head Bevin Dubrowski
Pastor and engineer Suzette Caldwell
METRO board member Lisa Castaneda.
To name just a few of the entirely wonderful 52!
Table Talk is supported by corporations and individuals, who buy tables and individual seats year after year, in order to keep connecting. Thanks to all our sponsors and to this year's Herstorian and Preserver level underwriters, Melanie Gray, Beverly K. Robinson, Nina O'Leary Zilkha; Centerpoint Energy, Fiesta Mart, Chinhui Juhn and Eddie Allen, Sally and Bill Russ, and Texas Children's Hospital.
Along with Table Talk, the Friends sponsor members-only networking events called Fast Friends, as well as the Living Archives oral history interviews open to the public, which are recorded and added to the archive. Last fall Tina Knowles' interview made headlines when her daughter Beyoncé joined the audience.
Part of the wonder of having been involved with Table Talk for all this time is the sheer number and diversity of the accomplished women honored. Over six hundred women have been conversationalists, with a few returning when they moved into a new job, including Houston Mayor Annise Parker.
The other half of the equation is the solid support of the Houston community for the program, which has now expanded to Women's, Gender & Sexuality Studies to reflect the importance of gender and sexuality in the study of the diversity of human experience.
The program has recently started an endowment fund for long-term financial backing. Funds raised support research by students, faculty and post-doctoral students, as well as conferences and community programming.
In addition the Friends support the newly endowed Carey C. Shuart Women's Archive and Research Collection. The archive collects the papers of Houston area women's organizations and women who've made history in Houston.
To date more than 50 collections, representing the range of women's involvements in multiple spheres of life and endeavor in Houston, are housed there. An increasing number of these documents of our local history are in digital form and available online.
If you'd like to add your good energy to the Friends, please sign up at www.friendsofwomen.org.
~ Elizabeth Gregory, director of the Women's, Gender and Sexuality Studies Program