October kickoff of the 15th season of the Living Archives series
Interview series features influential Texas women and archives their stories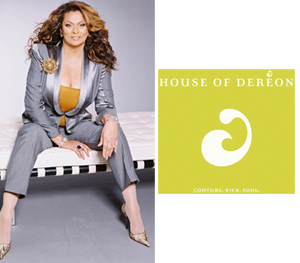 (Tina Knowles, House of Dereon logo)
Tina Knowles and Joanne King Herring are among the distinguished guests who will share their life experiences during the 15th annual "Living Archives" interview series produced by the Women's, Gender and Sexuality Studies Program.
The series features live conversations with influential Texas women recorded before an audience and, then, archived in the newly named Carey C. Shuart Women's Archive and Research Collection housed within the University of Houston Library system.
The archive collects the oral histories of Texas women and Houston area women's organizations, and the papers of individual Houston women who've made history.
Entrepreneur and fashion designer Knowles was born in Galveston and is a co-founder of the House of Dereon clothing label with her daughter Beyoncé Knowles, a multi-platinum pop singer with numerous Grammy awards.
Socialite and former diplomat Herring was born in Houston and is best-known for helping  U.S. Representative Charlie Wilson persuade the U.S. government to assist rebels in Afghanistan fight the former Soviet Union. Those events were documented in the book "Charlie's Wilson War," which was the basis of the movie of the same name in which Academy Award-winner Julia Roberts portrayed Herring.
"This fall's stellar 'Living Archives' lineup demonstrates again that Houston is full of amazing women," said Elizabeth Gregory, professor and director of the UH Women's, Gender & Sexuality Studies program. "We are proud to document their stories for Houstonians of today, and of the future, to draw upon."
This season the UH Library celebrates the naming of the archive in honor of Shuart—a founding member of the Friends of Women's Studies, the guild started in 1996 to support the women's studies program —and a longtime Houston arts and women's history supporter.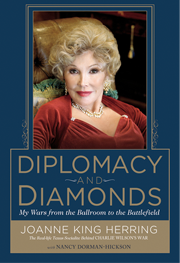 (Joanne King Herring's new memoir)
"Through her steadfast support of the collection the Shuart Women's Archive will continue to grow and garner prominence as a nationally recognized research collection of our outstanding Texas women," said Dana C. Rooks, dean of UH libraries. "The Shuart Women's Archive will continue to celebrate women's history and provide students and scholars alike with a window into the lives of many inspirational foremothers."
The archive includes the papers of Houston mayors Kathy Whitmire and Annise Parker, as well as documents from the Houston Area Women's Center, Hispanic Women in Leadership; the Association for Women in Science records; and Top Ladies of Distinction, a national African- American philanthropic group.
"The Friends of Women's Studies have been collecting papers and stories for 15 years and the collection has evolved into an extremely valuable research tool," Shuart said. "Our intent is to share this information, even more widely, by making the documents, videos and photographs available online."
Admission to the "Living Archives" is free to UH students and FWS members and $10 for the general public. Interviews at the Rockwell Pavilion include lunch. Seating is limited. RSVP to wost@uh.ed
Living Archives Fall Schedule
Tina Knowles, interviewed by Joy Sewing of the Houston Chronicle
11 a.m. – 1:30 p.m., Monday, Oct. 3., at the Rockwell Pavilion in the UH M.D. Anderson Library
Priority Seating for FWS Members who RSVP by Sept. 28
UN -Living Archives / Glenwood Cemetery Tour
6 p.m. – 7:30 p.m., Wednesday, Oct.19, at Glenwood Cemetery, 2525 Washington Ave.
Priority Spots for FWS Members who RSVP by Oct. 14
Joanne King Herring,  author & former diplomat, interviewed by Claudia Feldman of the Houston Chronicle
11 a.m. – 1:30 p.m., Tuesday, Oct. 25, at the Rockwell Pavilion in the UH M.D. Anderson Library
Priority Seating for FWS Members who RSVP by Oct. 18
Women Art Gallery Owners Panel, moderated by Victoria Lightman
7 – 8:30 p.m., Tuesday, Nov. 15
Panel Members: Betty Moody of Moody Gallery, Anya Tish of Anya Tish Gallery, Kerry Inman of Inman Gallery, Maria Sicardi of Sicardi Gallery
- Maria Ramirez