Between the Lines of dance and music
Premiere of modern dances set to contemporary chamber music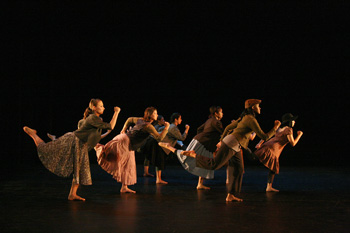 The Cynthia Woods Mitchell Center for the Arts presents Between the Lines, an evening of world premiere choreography and contemporary chamber music on April 15, 2011, and April 29-May 1, 2011.
Between the Lines features original choreography by School of Theatre and Dance faculty members and live performances by AURA, the Moores School of Music Contemporary Ensemble.
The April 15th performance will take place in the Moores Opera House. Exclusively for this performance, Karen Stokes will premiere a highly-structured dance score titled Shimmering inspired by the composition Blurred by Bill Ryan.
The April 29 - May 1 performances will be in the Lyndall Finley Wortham Theatre in the Cynthia Woods Mitchell Center for the Arts.
On both weekends Karen Stokes will premiere Landscape, an abstract work that explores spatial relationships through the landscape of the music, The Venetian Beginning by Gavin Bryars.
Also on the program are:
Teresa Chapman's dance Oh Alice! is based on poems in the children's literature classic, Alice in Wonderland. Jennifer Higdon's intricate score provides a textured landscape for solo dancer Katie Trevino to explore a fantastical world of movement.
Chapman will also premiere A Yearning for Completion. "It is a whirling composition that abounds with energy and doesn't stop until the musicians set down their bows," says Chapman.
Becky Valls' piece features partnering work between duets of dancers and repetition that is manipulated in series of movements that mirror changing music but still features the individual dancer. It represents spatial relationships constantly intertwining.
Leslie Scates presents a dance co-created by the seven women performing it. "This piece is truly an ensemble work, in that it does not rely completely on choreography from me, rather it is a compilation of material generated by the entire cast," Scates says.
Sophia Torres explores a primitive edge in her piece The Pack. Performed by seven cast members and set to the driving percussive score of Roberto Sierra, the dancers combine athletic movement with intricate ensemble partnering in a challenging exploration of choreography and percussion.
Exclusively for the April 29th-May 1st run, Toni Leago-Valle will present two excerpts from her 2009 evening-length, tetris, featuring six-feet-tall puzzle pieces designed by Houston Ballet Scenic Designer, Tom Boyd.
Valle says, "tetris is based on the psychological theory of Voice Dialoguing - the premise that a person is not one personality, but many selves, each working separately and together to protect and sustain the individual person."
The excerpts are "Inner Critic" - a duet showing how the Inner Critic manipulates and abuses a person, and "Silent Victim" a solo depicting the personality that learns to be quiet to stay alive.
Between the Lines premieres April 15, 2011 at 7:30 p.m. at Moores Opera House, UH Main Campus, featuring AURA Contemporary Ensemble, UH Dance Ensemble, and UH Saxophone Studio. Tickets for the April 15th performance are $15 general, $10 faculty/staff/alumni and students/seniors. Tickets may be purchased at Moores School of Music Box Office 713-743-3313.
Between the Lines will also be presented April 29-30, 2011 at 8 p.m. and May 1, 2011 at 2 p.m. at the Lyndall Finley Wortham Theatre, 133 Cynthia Woods Mitchell Center for the Arts, UH Main Campus. Tickets for the April 29th –May 1st performance are $20 general, $10 faculty/staff/alumni and students/seniors. Tickets may be purchased at School of Theatre & Dance Box Office 713-743-2929.
—Janet Dowden, photo by Pin Lim
Related links