Communication students work to raise HIV awareness among Houston teens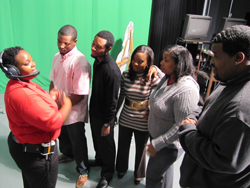 A scene opens with the dialogue: "And, where are you supposed to be going — I thought you were hanging with me today?"
The questions come from a concerned aunt, standing between her niece and the door, arms crossed and defiant. It's a scene from a new series of videos called Caught Off Guard that 17 students from the Jack J. Valenti School of Communication are working on to promote HIV education and STD awareness to high school students in Houston.
In the scene, the niece explains it's the two-month anniversary of her relationship with her boyfriend — and they're going to celebrate. Alone. The aunt moves closer, her defiance transforms into concern, and she embraces her niece. "Ashley, and are you OK with that?"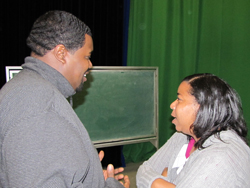 The "Aunt Tamika" character is played by Ameka Jackson, a UH-Downtown psychology student. The character's name is a play off of the name of Caught Off Guard writer and director Tamecia Henderson, a media production major and business management minor who is gaining real-world experience in the film industry between classes and coursework.
"As an aspiring screenplay writer and film producer, I saw this as a huge opportunity with the added benefit of reaching out to the younger generation," Henderson said. "(The project allows me to) inform teens of the risks of engaging in unprotected sexual practices, the importance of communicating with their partners, or family and friends about their concerns with sex and sexually transmitted diseases."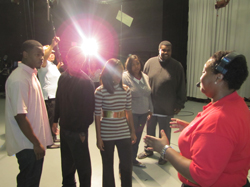 The media production project is the result of a new partnership between the School of Communication and the Baylor College of Medicine's Teen Health Clinic system, which operates seven comprehensive health clinics in the city for adolescents age 22 and under.
According to data presented by the Teen Health Clinic system, Houston saw 16,911 reported cases of HIV between January 1999 and September 2009, with 35 percent of the reported cases being in the 13 to 29 age demographic.
"These data suggest that it is imperative that prevention interventions aimed at reducing risky behaviors target adolescents," said Baylor Teen Health Clinic representative Kimberly Hebenstreit. "Therefore, the Teen Health Clinic developed the web-based communication internet intervention targeting this group. Through our collaboration with the School of Communication we have been able to create a series of webisodes (that) target adolescents. We hope that teens who watch these webisodes will reduce their risk behaviors and access our family planning services."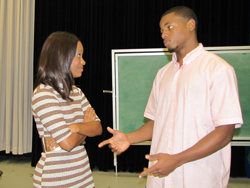 Media Productions Manager Ward Booth and Assistant Professor Jennifer Vardeman-Winter are the staff and faculty members working on the project. Vardeman-Winter, who specializes in health public relations research, said the target audience for the project are from low-income neighborhoods.
"Having a computer at home is a luxury rather than a necessity," Vardeman-Winter said. "This is challenging for health communicators because so much of the way we communicate with consumers, patients and communities now is through the Internet. So, Baylor Teen Health Clinic decided that while a website presence is still very important to achieving its mission, the best way to communicate with its clients was through their cell phones. This is why we are developing online episodes – webisodes – for BTHC clients to access using their cell phones."
Read more about Baylor College of Medicine's Teen Health Clinic system.
Read more about the Jack J. Valenti School of Communication.
—Brandon Moeller