Judaism and Mexican Heritage In Conversation
Call and response between the work of visual artist Gail Gutierrez and poet M. Miriam Herrera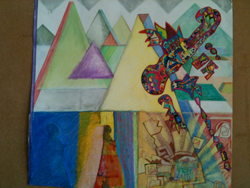 As Jewish and Mexican-American women, visual artist Gail Gutierrez and poet M. Miriam Herrera use their storytelling mediums to explore family legacies of hidden identity.
Both have lived in Israel and American cities with deep Latino roots and both have reclaimed their Jewish heritage while honoring their Mexican ancestry.
I say Kaddish for Columbus
and forgive him. I bless
his explorer blood cast within me—
An alloy of iron, nickel, silver, gold, cobalt, moon and meteorite.
— from the title poem of M. Miriam Herrera's book Kaddish for Columbus
On Tuesday, March 29, these two artists will participate in a call-and-response lecture, putting their words and images in historical and contemporary conversation with each other.
"My ancestors knew they were the 'Other' and spoke of that to their family," Gutierrez writes of her art. "Now, after re-entering the Mikvah, how do I reconstruct myself? I search for my own language of images to tell my story."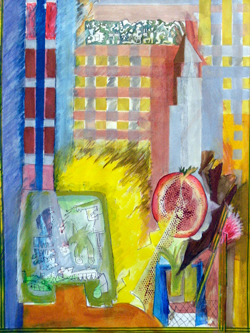 Sponsored by the World Cultures & Literatures Program within the Department of Modern and Classical Languages, the evening will begin in the Rockwell Pavilion of the M.D. Anderson Library with a 6 p.m. reception and the talk following at 7 p.m.
"They will be talking about the feeling of ambiguity they experienced growing up, knowing about their Jewish background, but being very Mexican American and urban," says Dr. Marie-Theresa Hernandez, director of the World Cultures & Literature program.
Gutierrez grew up in Los Angeles, while Hernandez was raised in Chicago. Both decided as adults to reclaim their Jewish heritage by converting to Judaism — a controversial issue for Mexican heritage families who wish to "return" to the faith, Hernandez says.
Herrera writes of that struggle in the poem "Postmark Israel: To a Crypto-Jew:"
Give us a land
where sleep is a spring in the desert,
where obsessions rise from one's throat, word upon flat, upon sharp, where utterance rings daily in a more acute ear— and the trumpet of the pole star tugs castaways home.
—Shannon Buggs