Cepeda Receives National Award of Excellence in Research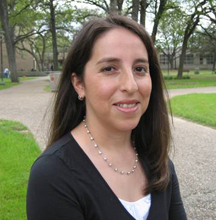 Sociology professor Alice Cepeda's research on drug abuse, autoimmune disease and Latino gang culture has earned her national recognition.
The National Hispanic Science Network on Drug Abuse awarded her the National Award of Excellence in Research by a New Investigator.
The national honor is presented for outstanding research and/or publication in the field of Hispanic drug abuse. The candidate must be a postdoctoral student (within five years of completing doctorate). Cepeda received the award based on her scientific contributions to the field of drug use among Hispanic populations.
"Dr. Cepeda's cutting-edge epidemiological research has substantively added to the knowledge base regarding social context and high risk behavior associated to drug use and abuse among Latinos," said Nalini Negi, assistant professor, University of Maryland School of Social Work.
Cepeda, also the associate director of the Center for Drug and Social Policy Research in the Graduate College of Social Work obtained $4 million in external research funding in 2008 with her colleagues ages Drs. Avelardo Valdez and Charles D. Kaplan, the network noted.
Cepeda's work has been funded through external support from the National Institutes of Health and the National Institute on Drug Abuse.
Her research has focused on the social epidemiology of drug use among disadvantaged populations including undocumented Latino day laborers, Hurricane Katrina evacuees, and sex workers on the U.S./Mexico border.
Recently, her research has expanded to understand risk behaviors associated with drug use that have been linked to social and health consequences including HIV/AIDS and other infectious diseases. She is currently working on a NIDA-funded research study focused on the influence of social networks among aging Mexican American injecting heroin users.
Cepeda received a Ph.D. in sociology from City University of New York in 2004. She graduated from The University of Texas at San Antonio with a M.S. in sociology in 1999 and a B.A. in sociology in 1995.
She is also the recipient of the 2010 Junior Scholar Award from the Drinking and Drugs Division of the Society for the Study of Social Problems.
—Melissa Carroll