UH President Renu Khator Appointed to Dallas Fed Board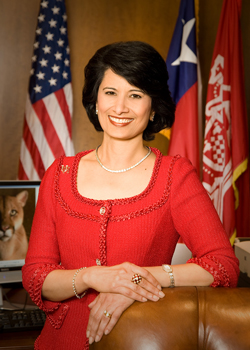 The Federal Reserve Board of Governors has appointed Renu Khator to the Federal Reserve Bank of Dallas board of directors. She will serve an unexpired portion of a three-year term ending Dec. 31, 2011. She is eligible for reappointment to a full term at the conclusion of the unexpired term.
Khator holds the dual titles of chancellor of the University of Houston System and president of the University of Houston. The UH System's first woman chancellor and the first Indian immigrant to head a comprehensive research university in the United States, she assumed her post in January 2008.
A social scientist, Khator's academic appointment is in the Department of Political Science.
As chancellor of the UH System, Khator oversees an organization that serves more than 65,000 students, has a budget that exceeds $1.3 billion, and has a $3 billion-plus economic impact on the Greater Houston area each year. As president of the University of Houston, she is the chief executive officer of the largest and oldest of the four UH System universities.
Under her leadership, the University of Houston established a number of impressive milestones in 2010, including - for the first time in its history - receiving more than $100 million in private support from businesses, corporations, alumni and friends in a single year. The record was achieved on the strength of support from more than 25,000 donors to the university during that same period. Other milestones include establishing a record for research expenditures at the University of Houston of $99 million and setting enrollment records at each of the four UH System campuses.
"I am honored to receive this appointment, and I am proud to serve in this position that offers a major role in the supervision and regulation of the U. S. banking system," Khator said.
Khator is a member of the Indian Prime Minister's Global Advisory Council and serves on several national and state boards, including Greater Houston Partnership, Houston Technology Center, Methodist Hospital Research Institute Board and the Business Higher Education Forum.
Khator holds a bachelor's degree from the University of Kanpur and a master's degree and Ph.D. in political science from Purdue University. She is a noted scholar in the field of global environmental policy and has published numerous books and articles on the subject.
Each Federal Reserve Bank has a nine-member board of directors. Three members represent commercial banks, three represent the public and three are appointed by the Board of Governors in Washington, D.C.
For more information on the Dallas Fed, visit www.dallasfed.org.
—Richard Bonnin