Hollywood Trombonist Andy Martin heads to UH Moores Jazz Festival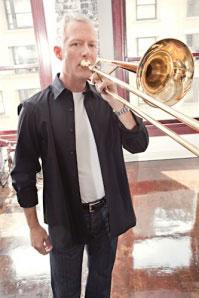 Andy Martin's trombone talents have been heard on stage and screen. The veteran jazz man has performed on major motion picture soundtracks and has recorded with some of the world's biggest pop stars. Soon, he will showcase his skills as a performer and educator at the University of Houston's Moores Jazz Festival.
Andy MartinEach spring, UH hosts this festival, which attracts top musicians for a weekend of clinics aimed at middle and high school students, as well as concerts at the Moores Opera House. The event debuted in 1999 and has consistently brought top players to campus including Blood, Sweat and Tears trumpeter Lew Soloff, late sax master Michael Brecker, trumpeter Randy Brecker and sax player Kenny Garrett.
Performances for the 2011 Moores Jazz Festival are as follows:
7:30 p.m., Feb. 25: Texas Music Festival Jazz Project - Tickets are $10 and $5 for students and seniors.
7:30 p.m., Feb. 26: Andy Martin with the Moores Jazz Orchestra - Tickets are $15 and $10 for students and seniors.
"Our students will learn much from Martin," said Noe Marmolejo, director of jazz studies at UH's Moores School of Music. "His experience extends across the entertainment industry, so they will have an opportunity to gain invaluable insight into the mind of one of today's top musicians."
Martin has performed on albums by Coldplay, the Pussycat Dolls and Michael Bublè, and soundtracks for films such as "Spider-Man," "Cars" and "Rush Hour." He also has contributed to TV scores for "Family Guy," "American Dad" and "King of the Hill." Martin's other televised work includes performing with orchestras contributing live music to major awards shows including the Grammys, the Emmys, the Academy Awards, the Golden Globes and the Screen Actors Guild Awards. He's also lent his trombone talents to orchestras performing on hit shows "Dancing with the Stars" and "American Idol." His recordings include "Setting the Standard," "Tribute to Carl Fontana Vols. 1 and 2," "The Project" (with Vic Lewis) and "It's Fine...It's Andy."
Moores Jazz Festival tickets can be purchased by calling the Moores Ticket Office at 713-743-3313. For more details, visit the festival's website http://www.music.uh.edu/jazzfestival/.
—Mike Emery