Invisible and Silent No More: Black Deaf Women Share Their Stories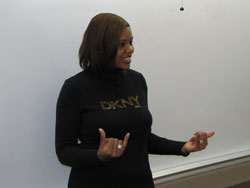 Their race, gender and physical disability make Black Deaf women socially invisible and literally unheard.
"The Deaf community as a whole is often overlooked, ignored and marginalized by society at-large. Imagine how much more so that occurs to minorities within the Deaf community," said Sharon G. Hill, an adjunct professor in the Department of Communication Sciences and Disorders.
On February 26, Houston's most prominent Black Deaf women will come together to share their stories of defying expectations, blazing trails and, most importantly, getting others to see and hear them.
The panel discussion, "The Untold Stories of Black Deaf Women," is set for Feb. 26 at 3-5 p.m. on the University of Houston campus in the Social Work Building, Room 101.
It's hosted by Communication Sciences and Disorders Department's American Sign Language Interpreting program.
Communication Axcess Ability Group (CAAG) and G. E. Grigsby Inc. are co-sponsors of the event. CAAG is one of only five interpreting agencies in Houston that specializes in sign language interpreting services and G. E. Grigsby Inc. is a local accounting firm that specializes in serving deaf and hard-of-hearing clientele.
Hill, a sign language interpretation instructor, will moderate the panel, which features Dr. Shirley Allen, Mary van Manen, Mary Perrodin, Rebbie Smith and Michelle Martin.
Hill explained that the panel members refer to themselves as Deaf with a capital "D" to reflect their immersion in a unique culture that does not view hearing loss as a disability but, rather, embraces it and sets its own values, traditions and norms.
Allen, the first African-American Deaf woman to earn a Ph.D. degree, is the President of Houston Black Deaf Advocates. Van Manen, the first Black Deaf person to graduate from college in Mississippi, sat on the Texas Governing Board for the Texas School for the Deaf.
Perrodin serves as an educator of the Deaf at Barbara Jordan High School and is pursuing her second Master's degree in counseling at Prairie View A&M University.
Smith is a long-time employee at the Michael E. Debakey Veterans Administration Medical Center. Martin is the President of the United Methodist Committee for the Deaf and Hard of Hearing Ministries.
Hill primarily instructs courses in the American Sign Language Interpreting program, which stands alone as the only program of its kind at a Texas university offering a bachelor's degree program in ASL Interpreting for students.
"Black Deaf individuals possess their own unique cultural norms, values, language dialect and heritage – distinct from the White Deaf community," Hill said. "This diversity in the Deaf community makes the need for minority interpreters all the more necessary. Sadly, minority groups are grossly underrepresented when viewing the statistics for certified interpreters."
Read more about the event and register at http://uhasli2011.eventbrite.com/.
Read more about the Communication Axcess Ability Group at its website, http://www.caag4.com.
Read more about G. E. Grigsby Inc at its website http://gegcpa.com.
Read more about the Department of Communication Sciences and Disorders at its website, http://www.class.uh.edu/comd.
—Brandon Moeller and Shannon Buggs