Critical and commercial attention shining on Creative Writing alumna
Tiphanie Yanique is a writer your favorite writer reads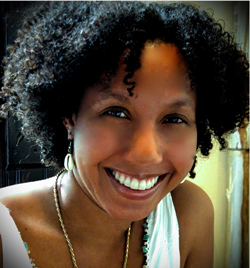 Tiphanie Yanique is a writer to watch and not just because Oprah Winfrey says so.
Her debut fiction collection, How to Escape from a Leper Colony, was reviewed in Winfrey's O Magazine last March. The book-loving publication also gave it the "reading group" treatment: nine paragraph-length questions to guide readers' individual and collectively deeper into the short stories' themes and parables set in the author's native Virgin Islands.
But the commercial attention Yanique, a 2006 alumna of the Creative Writing Program, has received pales next to the critical acclaim bestowed on her writing.
This fall, Yanique was recognized by the National Book Foundation as a "5 Under 35" honoree. The accolade is bestowed on five young writers chosen by National Book Award winners and finalists.
Yanique was nominated for the award by Jayne Anne Phillips, a finalist in 2009 for her novel Lark and Termite. The celebration for the young writers is held at the beginning of National Book Awards Month and is considered a must-attend event for the New York literati.
"Each of the new writers read for about five minutes after their nominator introduced them," Yanique said of the November evening. "Sometimes the nominators were so psyched about the writer that they were helping usher onto the literary stage that they went on for a while. It was really sweet!"
Two months earlier, she received a Rona Jaffe Foundation Writers' Award of $25,000 given to six "emerging" women writers. "It is the only national literary awards program of its kind dedicated to supporting women writers exclusively," the foundation said. Yanique's recent streak of awards does not surprise J. Kastely, one of her former professors and director of the Creative Writing Program.
"As a student, Tiphanie brought a concern not only with mastering her craft as a writer but with becoming a writer who could address social issues that were important to her," he said. "Her fiction explores island life in the Caribbean, and she works hard to show both the challenges and the dignity of that life."
The Boston Globe described her as a "ventriloquist" with the ability to write in a "range of pitch-perfect voices when it named her one of 16 cultural figures to watch.
After graduating from UH with a Master's of Fine Arts in Creative Writing, Yanique received the Parks Fellowship at Rice University where she taught creative writing and advised the literary magazine R2. In 2009, she joined the faculty at Drew University in Madison, N.J. as a professor of Creative Writing and Caribbean Literature.
"The most important thing a writer can get out of a creative writing program is community and mentorship," Yanique said, "At UH I had mentors who have continued to support me even now, like Chitra Divakaruni and Claudia Rankine. I was part of community of writers who have continued to be friends and readers for me."
Kastely predicts Yanique will soon be racking up teaching excellence awards to go along with her writing kudos.
"Tiphanie has always had an interest in teaching; she enjoys students and wants them to succeed," he said. "I imagine her naturally moving into a position of advocacy for her students, starting a literary journal with them, and guiding and advising them as they take the risks necessary to become writers."
Yanique is working on two new writing projects, when she's not teaching and caring for her newborn. One is a novel set in the Virgin Islands and the other is a poetry collection called Wife.
"I've been married a little over a year and I'm still endlessly fascinated by this strange thing that we humans do — commit to loving and supporting one person for the rest of our lives," Yanique said. "It seems an entirely magical and brave thing to do."
—Shannon Buggs