Psychology Advisor wins 2010 New Professional Award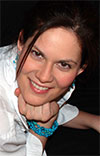 Department of Psychology Academic Advisor Audri Villalon has won the 2010 New Professional Advising Award, an award for undergraduate advisors chosen by The University Advising Award Committee created by the UH Office of Senior Vice President for Academic Affairs and Provost.
Villalon will receive a plaque and a monetary award of $1,000 as part of the award, which celebrates excellence in undergraduate academic advising for advisors who have worked at UH for at least two years but not more than five years.
The New Professional Advising Award is only in its second year, and last year the honor also went to an undergraduate advisor from the College of Liberal Arts & Social Sciences. Kimberly L. Williams, from the Department of English, received the award in 2009.
For more information about the New Professional Advising Award, visit the Office of the Provost website.
—Brandon Moeller