Granato Receives NSF Appointment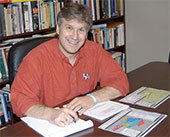 Jim Granato, director of the Hobby Center for Public Policy, has been selected to participate in a focus group facilitated by the University of Michigan's School of Information (UM-SI).
The very selective group of participants include researchers from fields funded by the National Science Foundation plus researchers from the humanities and arts who have worked on gateway or cyber infrastructure projects.
Web-based community resources to support science and engineering research--often called gateways or portals--provide access to software, data, collaboration tools, and high-performance computing to enhance productivity.
Dr. Granato was recommended by Frank Scioli (NSF) as a domain scientist who is a cutting-edge thinker in political science, as one who is able to understand issues across disciplinary boundaries, and as one who appreciates the potential of emerging and future technologies.
The input gathered from the focus group will be used to provide guidelines to NSF to help with future solicitations and funding decisions.