Five CLASS staff members win UH Staff Excellence Awards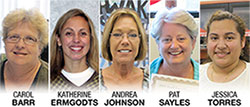 On Wednesday, May 5, the Human Resources Department at the University of Houston surprised the eight recipients of this year's Staff Excellence Awards and the one recipient of the Charles F. McElhinney Distinguished Service Award, which is the highest award given for exemplary staff contribution to the university.
"I was caught off guard," Staff Excellence Award winner Pat Sayles said. "The staff in the Dean's Office knew, but somehow kept it quiet. I didn't even know I had been nominated."
Of the nine awards doled out to staff across the University of Houston campus, five were awarded to staff members within the College of Liberal Arts and Social Sciences. Award winners from CLASS are Carol Barr, Katherine Ermgodts, Andrea Johnson, Sayles and Jessica Torres.
Most notably, Barr, Department Business Administrator for the Department of English, was awarded this year's Charles F. McElhinney Distinguished Service Award.
"Working in CLASS is a real treat," Barr said. "I enjoy the professional and sometimes passionate discussions I hear as I walk down the hall as faculty and students discuss academic, personal, and political ideas. I also enjoy the daily contact we have with our undergraduate and graduate students."
Barr, who has worked for UH for 30 years, will receive a plaque, recognition at the Staff Awards Day ceremony and $3,000. The McElhinney award was eligible to all previous Staff Excellence Award winners.
"At the risk of being overly sentimental, I am proud to be a member of the UH community," Barr said. "I am a graduate of UH, my son completed a summer internship in the College of Engineering while he was in college, Bradley's dad has taught at and is currently a staff member at UH, and my daughter-in-law holds a masters degree from UH. Our family is UH Proud!"
Eight Staff Excellence Awards were awarded in four categories: non-exempt office and clerical, two awards; non-exempt technical, service and craft, two awards; exempt administrative and professional, two awards; and exempt effective leadership (supervisors and managers), two awards. Staff Excellence Award winners receive a certificate, recognition at the Staff Awards Day ceremony and $1,000.
CLASS swept the two awards given to non-exempt office and clerical staff members. Johnson, an Office Coordinator for the School of Art and Torres, an Advising Assistant for the Department of English, both won Staff Excellence Awards as non-exempt office and clerical staff members.
Johnson has worked at UH for almost six years, and said each day at work is different and more enjoyable than the previous one.
"I'm most proud of the School of Art," Johnson said. "It's an honor to come to work each day and work with the staff, students and faculty that I get to work with."
Torres was not immediately available for comment.
Ermgodts, a speech pathologist within the Department of Communication Sciences and Disorders, won a Staff Excellence Award as an exempt administrative and professional staff member. Ermgodts has worked for UH for 11 years — and previously earned her Master of Arts degree from UH.
"I am most proud of the amazing job our department does in preparing graduate students to become professional speech-language pathologists," Ermgodts said. "On a personal note, I am most proud of the extensive externship program which I have developed and the range of experiences it affords our graduate students in training. I am also extremely proud of our clinic's role in our Community Outreach Clinics which provides speech, language and hearing services in the community. I supervise the training and coordinate the services at several of these clinics."
Sayles, the Director of Budgets and Administration for the CLASS Dean's Office, won a Staff Excellence Award for Effective Leader as a supervisor and/or manager staff member.
Sayles has been employed at UH for 21 years.
"I believe all department business administrators in the college deserve recognition," Sayles said. "They are the unsung heroes of the college — they are responsible for everything from budgets to award luncheons to trying to please everyone in the department."
To announce the winners, CLASS Associate Dean Sarah Fishman wrote an e-mail to the CLASS Faculty list-serv on Thursday.
"We are truly fortunate to have such an excellent group of people who, amongst other things, serve our students and make our research and teaching missions possible," Fishman wrote. "We are so pleased that our very own Pat Sayles, College Business Administrator Extraordinaire, with many years of outstanding service to the College and the University, has been recognized with the 'Effective Leader' Award. We all know exactly how well-deserved this award is."
Interim Dean Cynthia Freeland said Sayles deserves the honor.
"I was one of the nominators of College DBA Pat Sayles, and I pointed out that she is truly the person who has been running the college during the past year and a half, being patient with two novice Interim Deans," Freeland said. "She is especially deserving of the Leadership Award for the crucial role she has played during this transition period."
Freeland said she was impressed by five out of nine awards going to CLASS staff members.
"They have a lot of years of service here and they make a wide range of skilled contributions to our college," Freeland said. "It's remarkable to read about how invested each one is in their unit and the success of 'their' students and faculty members."
More information about the awards is available on the HR website at http://www.uh.edu/hr/resources/recognition.htm.
—Brandon Moeller