Jane Blaffer Owen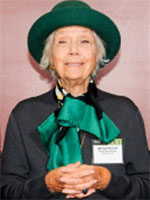 Houston arts patron, social activist and preservationist, Jane Blaffer Owen, 95, died in Houston on Monday June 21st.
The daughter of Robert Lee Blaffer, a founder of the Humble Oil Co. (now ExxonMobil), and granddaughter of William T. Campbell, a founder of Texaco, Owen was recognized in both Houston and New Harmony, Indiana for her generous philanthropy. She was a long-time supporter of the University of Houston's Blaffer Art Museum, which bears the family name, and in recent years a patron of UH's Moores School of Music and College of Architecture.
The staff and board of trustees of Blaffer Art Museum at the University of Houston mourn the passing of Jane Blaffer Owen. Mrs. Owen was a long-time supporter of the museum carrying her maiden name. She enthusiastically embraced the institution's mission and was uniquely invested in its future. While New Harmony was her first love, her commitment to the arts at the University of Houston was exemplary and we are deeply affected by her loss.
Owens' last public appearance was in April at an evening of conversation sponsored by The Menil Collection. Even at her advanced years, she is said to have held guests in the Menil House in rapt attention as she eloquently spoke for an hour on life in Houston.
She is survived by two daughters, Jane Dale Owen and Anne Dale Owen.
Funeral arrangements are being handled by Geo. H. Lewis & Sons.
You can hear Owen talk about life in Houston in the Houston Public Library Digital Archives. (Sources: Culturemap Houston, Chron.com)
Read the full Culturemap article by Shelby Hodge.