Faculty Spotlight – Professor Larry Kelley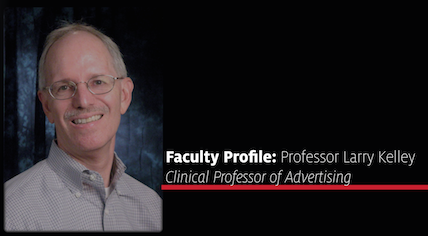 Larry Kelley is a Clinical Professor of Advertising at the Valenti School of Communication. He has been an integral part of our team and a dynamic professor these last seven years. Recently, we spoke with Professor Kelley about his expereinces as a professor, his students and his accomplishments. You can read what he had to say below. 

Q: What classes do you teach?
 Comm. 4360 Advertising Media Planning, Comm. 4366 Advertising Account Planning, Comm. 4361 Local Advertising Campaigns and Comm. 4363 National Advertising Campaigns ( NSAC).
Q: What made you want to be a professor?
 Like most people, I want to make an impact. I look for ways to do just that. Being a professor provides the platform to make a difference. Plus, it is very fun. What a super rewarding experience it is to see young people gain confidence and success.
Q: How would you describe your area of research?
 I specialize in advertising media and research. I have published the current best- selling books in the field:
Advertising Media Planning: A Brand Management Approach
and A
dvertising Account Planning: Planning and Managing an IMC Campaign
and others. It is great that I have the opportunity to make a big contribution to this field. More than 75 colleges and universities have adopted my books.
Q: Why did you choose this field of study?
 Advertising is always changing. It is not boring. You have a new challenge everyday. And you are constantly learning. What can be better than that?
Q: What do you like most about being a professor at the Valenti School of Communication?
 The mix of students. Interacting with students from a variety of cultural backgrounds is very exciting. Our students rock.
Q: What has been your favorite experience as a professor so far?
 Helping the NSAC team win District for the first time in 16 years. That first team was special.
Q: What accomplishments are you most proud of?
 Seeing students succeed. We have students that are now at major agencies and companies such as Google, Digitas, BBDO and nearly every agency and communication department in Houston. It is great to see students making a difference in our community locally and in the broader advertising community nationally and internationally.
Q: What other jobs have you had outside of teaching?
 My real jobs have been Principal and Chief Planning Officer for FKM; SVP Media and Research of BBDO, VP of Media and Research at Bozell and Media Planner at Bloom ( now Publicis). I have spent 35 years in the advertising agency business including being a partner in two agencies.
Q: Do you have any tips for students on how to be successful at the Valenti School of Communication?
 Get involved and commit to being better every day. To be successful, it is what you know, who you know and who knows you! Finally, people care about what you know but they really want to know if you care.
Q: What do you know now that you wish you knew as a student?
 The more you get involved the better. Don't just go to school. Be active and gain different viewpoints. (See student tips above.)