Electrical Engineering - Power and Energy Systems (M.S.E.E.)
GRADUATE / ENGINEERING
Attain technical and business expertise needed to meet the increased industry demand for highly skilled professionals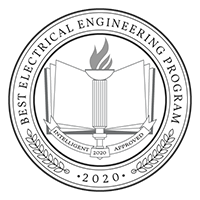 Electrical Engineering - Power and Energy Systems (M.S.E.E.)
The Master of Science in Electrical Engineering with specilization in Power and Energy Systems provides advanced instruction to give individuals the level of technical and business expertise needed to meet the increased industry demand for highly skilled professionals.
The program is ranked #4 for best power and energy systems focused program among the top 59 online electrical engineering degrees according to Intelligent.
This program provides students with the skills required to take on leadership roles within the electrical industry. Students will gain knowledge that will provide the foundation for economic profit, safety, health, and environmental advancements as an individual, as well as a professional member of a company or community.