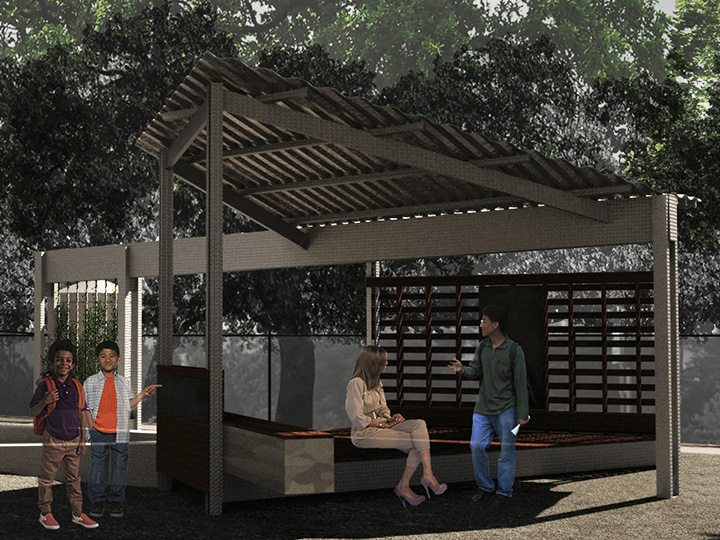 Frank Black Middle School (FBMS) in Houston's Oak Forest neighborhood will soon have its first outdoor classroom. Master of Architecture students in the Graduate Design/Build Studio at the University of Houston Gerald D. Hines College of Architecture and Design are designing the project and will build the sustainable classroom at the Houston Independent School District campus this summer.
"This outdoor classroom will provide endless learning opportunities in a different setting- one that will increase student engagement and motivation," said Rhonda Honoré, FBMS principal and UH alumna. "This will also be a space that will serve the outside community."
Led by architecture professor Patrick Peters and assistant professor Jason Logan, the UH graduate students will spend the spring and summer semesters designing and fabricating a 296-square-foot steel shade canopy that will add to the school's existing outdoor space, which has a butterfly garden, pond and benches. Working with a $28,000 construction budget donated by an FBMS family, UH students are getting the full architecture experience— from initial conception to completed construction.
"In selecting a spot to put the structure, we took into consideration where the sun rises and sets, which way the wind comes from and how much shade the trees provide," said GDBS student Jim Torres, who is developing the framing system for the roof and floor.
Each graduate student is tackling a different aspect of the construction process with sustainability in mind. Torres added that the group is particularly excited about designing a butterfly, or v-shaped, roof. Not only will it provide shade during the hottest hours of the day, he said, but it will simultaneously funnel storm water to a living wall and a 1000-gallon rain tank to store the runoff, which can be reused to water the garden and surrounding grass. Other features include cantilever beams that can be used as benches and chalkboards made out of slate.
The GDBS students learn the full-scale implications of their project and have to navigate costs, materials and permitting, among other factors.  
"In order to stay within the budget, we want to use as many pre-fabricated materials as we can, but use them in a way that's meaningful to the site," said GDBS student Abe Tanvir. "We are doing most of the work at the Keeland Design Exploration Center on the UH campus and as little site work as possible."
The experience is a new one for this group of students, but the Graduate Design/Build Program has been making improvements to schools, nonprofits and community spaces for 30 years. The latest project at Frank Black Middle School (1575 Chantilly, Houston, TX 77018) is scheduled to be installed in late summer and ready for the start of the 2019-2020 school year.
---