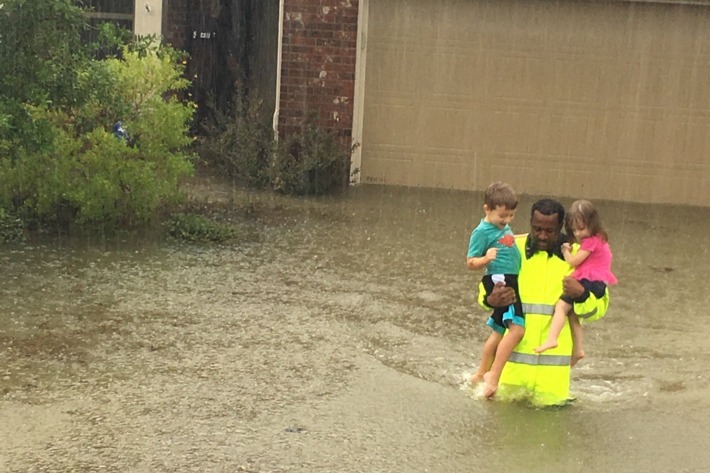 Heroes of Hurricane Harvey and a Houston business leader are the recipients of several prestigious awards that will be given out during the University of Houston's 2018 University Commencement, May 10-12.
A 2018 President's Medallion is being awarded to "Hurricane Harvey Heroes" of Harris County. The honor will be accepted by Mark Sloan, homeland security and emergency management coordinator for Harris County, on behalf of the employees of Harris County who were faced with the challenge of keeping their own homes and families safe, while lending their strength and skills to ensuring the safety, wellbeing and recovery of their communities. This includes the Harris County Emergency Management Center, first responders and shelter coordinators, public works and infrastructure employees, health services and office teams. The award is bestowed upon all who were essential to the County's response and survival.
"Hurricane Harvey Heroes" of the City of Houston are also receiving the 2018 President's Medallion. Like their counterparts in Harris County, employees of the City of Houston responded to a devastating weather event that put the citizens, businesses and infrastructure of Houston in jeopardy Houston Mayor Sylvester Turner will accept the President's Medallion on behalf of the thousands of city employees who rose to the challenge of representing the strength and resiliency that define Houston. Workers from across all departments and divisions participated in rescue and recovery, operators answered more than 8,500 calls to 911 in one day, and public works crews cleared enough debris to fill 622 Olympic-sized swimming pools. Mayor Turner will also deliver the keynote address to the College of Liberal Arts and Social Science at 9 a.m. on Thursday, May 10 at NRG Stadium.
"Employees from Harris County and the City of Houston coordinated volunteers, sheltered families, provided health services, established partnerships with aid organizations and maintained the comprehensive services that kept Greater Houston operational," said UH President Renu Khator. "It is my honor to recognize Hurricane Harvey heroes from the city and county with a President's Medallion." 
Steven Stagner, executive chairman and CEO of Mattress Firm, will receive an honorary degree. Stagner has devoted his time, energy and resources to the University of Houston and its students, and to many causes in the community. Prior to joining the corporate office in 2005, Stagner started as a franchisee with one store in 1996 and quickly grew it to become the largest franchisee in the Mattress Firm network. Today, he oversees an organization that operates approximately 2,500 company and franchise stores across the U.S. 
"While the University of Houston is not his alma mater, Steven Stagner is a Cougar by choice," said Khator. "He believes in the value of a UH education and reflects this belief by actively recruiting UH students every year— more so than from any other university. We are thankful for all he has done for UH and our students."
Students in the C.T. Bauer College of Business benefit from Stagner's mentorship as well as his service on the Bauer College Board. As a result of an exceptionally generous personal gift, the Stephen Stagner Sales Excellence Institute at the C.T. Bauer College of Business was established in 2016.
Stagner graduated from Steven F. Austin University with a bachelor's degree in Business Administration and Marketing. For his philanthropy, community service and his support of the C.T. Bauer College of Business, UH will present him with the degree of Doctor of Humane Letters, honoris causa. 
More information on spring 2018 commencement is available here.
Compiled from original reports by Carrie Taylor
---