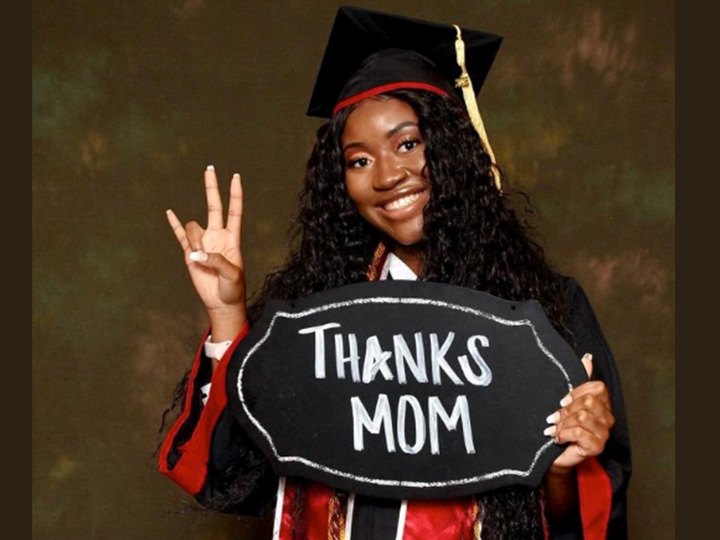 You are moving too fast. You will never be ahead. You are going to fail. Hearing those words from doubters only motivated Florence Scott to prove them wrong. And she did. At 18 years old, Scott is the youngest member of the University of Houston fall 2018 graduating class.
Scott, who "always wanted to be ahead," graduated from high school at 16. Over the next year and a half, through loading up on both traditional and online classes, she completed an associate degree from a Dallas-area community college and will be receiving a Bachelor of Science degree in psychology from UH later this week during fall commencement.
The learning won't stop there. Next month, this wunderkind will begin an online master's program in business administration at Texas A&M International and hopes to attend law school next fall.
"Never get too comfortable. There's always room for improvement," said Scott, who is thankful for the support of her parents. "Almost is never enough."
A prodigy's passion for technology and science
Fiora Giorgi-Ramos is a true prodigy. At 6 years old, the Houston native knew she wanted to be a physician who treats both patients and also designs medical systems and devices.
"My dream has been to become a medical doctor with a side focus on biomedical engineering and improve the patient experience. I want to help people with the utmost care and compassion," she said.
At 13, Giorgi-Ramos scored high enough on the Texas Success Initiative Assessment to bypass high school and start college at Houston Community College. After graduating from HCC at 15 with an Associate of Science degree, she came to UH and the Cullen College of Engineering. Giorgi-Ramos, who turns 19 on December 22, will graduate this week with a Bachelor of Science in biomedical engineering.
She credits a well-rounded childhood and supportive family for her success. "Everyone has their own best. You can't do the best, but you can do your best," her mother often said to her growing up.
After graduation, Giorgi-Ramos will study for the Medical College Admission Test, take an organic chemistry class as a prerequisite for medical school and continue to conduct research with her UH professors.
Mother of seven revives dormant dream
67-year-old Janet Ward is the second oldest person to graduate this semester. The oldest is 72. To Ward, getting a degree is nothing short of amazing as she is the first of her family's generation to earn a bachelor's degree.
Higher education took a back seat after Ward got married, raised seven children and worked long hours as a general manager of a restaurant. It wasn't until one of her daughters convinced her to pursue her passion and study nutrition that Ward quit her job and moved to Houston to begin college.
"My dream has always been to help people learn about healthy lifestyles," said Ward, who was raised on fresh produce from her father's gardens, along with plenty of exercise. "I see friends who are getting cancer, diabetes, high cholesterol and heart issues. I know there's a better way to get healthy."
This week, the first phase of her dream comes true. Ward will receive a Bachelor of Science in health with a concentration in health promotion and a minor in nutrition. The next phase begins with moving back to California, getting a job and furthering her education.
Degrees awarded for summer/fall 2018:
4,706 university-wide
3,461 bachelors
987 masters
216 doctoral
42 professional
Click here to see the fall 2018 commencement dates and locations.
---