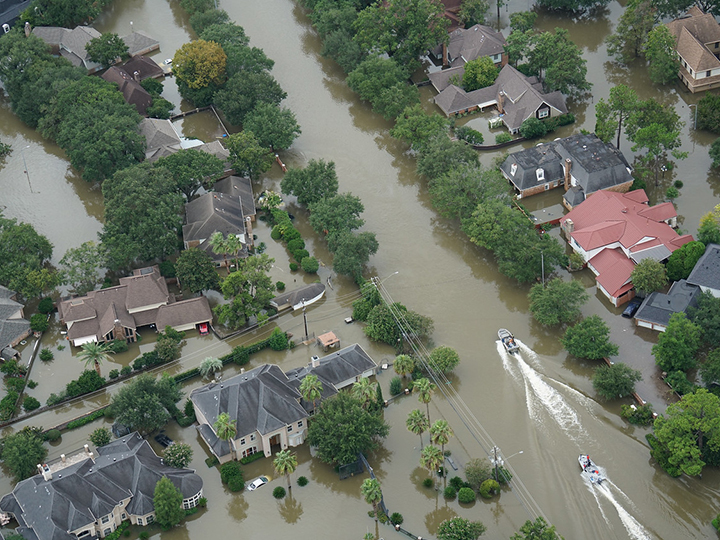 As the first anniversary of Hurricane Harvey nears, University of Houston experts are available to offer insights on a variety of Harvey-related storylines. 
Insurance
Seth Chandler, Law Foundation Professor at UH Law Center, can talk about the increase in people here buying flood insurance after Harvey. But he says the real story is not the uptick in purchases, but how Harvey further revealed systemic problems in our two systems of catastrophe insurance here in Texas: the National Flood Insurance Program — "a continuing fiasco," in his words — and the Texas Windstorm Insurance Association, which had its cash zeroed out by Harvey. Congress has until Nov. 30, 2018 to reauthorize NFIP.
Both, Chandler said, need to be addressed before the next major storm.
Media contact: Jeannie Kever, jekever@uh.edu at 713.743.0778.
---
Economic Impact
Bill Gilmer, director of the Institute for Regional Forecasting, says the basic drivers of the local economy – upstream and downstream oil and gas/refining and chemicals, TMC and NASA/JSC were never seriously challenge by Harvey. Harvey generated $1.04 billion in taxable sales in first four months, along with an uptick in construction activity. The biggest impact was on single family housing, with homes/neighborhoods built before Allison in 2001 hardest hit.
Media contact: Jeannie Kever, jekever@uh.edu at 713.743.0778.
---
Rain Anxiety in Children
The sound of rain is refreshing for many, but for some who went through the storms of Hurricane Harvey, the sound of rain triggers the fear, helplessness and anxiety of that day. The feeling is compounded when the survivor is a child. Shainy Varghese is an associate professor in the UH College of Nursing and a pediatric nurse practitioner with a nurse-managed clinic in Stafford. Many of her patients are children still struggling to navigate their emotions when it rains.
Media Contact: Laurie Fickman, lafickman@uh.edu (713) 743-8454
---
Preserving the Oral History
Mark Goldberg is a lead researcher for the Center for Public History's "Resilient Houston: Documenting Hurricane Harvey" oral history project.  Goldberg and UH graduate students have been conducting interviews from residents in Meyerland, a neighborhood that has seen multiple flood events recently. In the coming years, the "Resilient Houston" team will conduct interviews in a variety of neighborhoods across greater Houston. Goldberg can speak to the progress of this ongoing project and how the center plans to use interviews to inform government and community responses to natural disasters.
"By talking to flood victims about their plans, we can get at personal experiences and community histories that don't always come out in the written record, Goldberg said to Jewish Herald Voice. "Oral history helps us get at the textures and nuances of this history."
Media contact: Sara Tubbs at 713.743.4248 or sstubbs2@uh.edu 
---
Ongoing Psychological Impacts
UH psychologists Matthew Gallagher and Anka A. Vujanovic are co-directors of the Trauma and Anxiety Clinic of Houston. Both are available to speak about the profound impact Hurricane Harvey continues to have on mental health, especially among those who are still displaced.
"For some individuals, the prolonged displacement related to storm damage can delay the emotional impact of the stress associated with experiencing a natural disaster as it can take months or more before individuals return to a stable living situation," said Gallagher. "Anniversaries and reminders such as rain or thunder storms can sometimes lead to an uptick in anxiety or stress, so it is important to remember to engage in healthy coping and rely on social support during these times."
Said Vujanovic, "The psychological and emotional impact of displacement and loss varies widely. While we know that the severity of a trauma or stressor is associated with a greater risk of negative mental health outcomes, the vast majority of people who experience trauma or displacement recover and do not develop mental health issues as a result. If displaced or affected individuals notice that they are experiencing changes in mood, sleep, appetite, or general outlook on life and that such changes persist for a month or more, it is important to seek professional guidance."
Media Contact: Laurie Fickman, lafickman@uh.edu (713) 743-8454
---
Houston History Saved
When Hurricane Harvey hit, it destroyed a portion of world-famous Houston photographer Janice Rubin's collection. She spent most of her career documenting Houston's history—the early boom, along with its movers and shakers. She recently donated 15,000 pieces of her work from 1976-2002, including prints, negatives and slides that were spared by the storm to UH Libraries Special Collections. It was a labor of love that would not have been possible without the help of a UH student.
"This part of the collection includes a lot of power brokers and people who made this city in the late 70s and early 80s. Houston at that time was a great interest to the world. It's sad what was lost was lost (in the hurricane). But I am grateful that I've been able to take some time to assess what was saved and put in a form that perhaps others can make meaning of," said Rubin.
Media contact Sara Tubbs at 713.743.4248 or sstubbs2@uh.edu
---
Sea Floor Change
Will Sager, professor of geophysics, received a National Science Foundation grant to compare the sea floor along the ship channel before and after the storm. This summer, Sager and his team found that sediment ridges were less noticeable, an indication that sediment was carried out to sea. Sager can talk about what they've found, why it matters and what they still need to know.
Media contact: Jeannie Kever, jekever@uh.edu at 713.743.0778.
---
Student Nurses on the Front Lines
UH Nurses were on the front lines during Harvey participating in clinical activities in area hospitals, emergency rooms and shelters. The following are people willing to share the memories of their experiences.
Emily Hardy is a nursing student in the college's Second Degree BSN program who chose to volunteer with Baker Ripley School at the NRG Center Emergency Disaster Shelter following the devastation of Hurricane Harvey. As a student nurse, she provided assistance in patient intake and in triage of the displaced evacuees.
Christopher Corredor from the Second Degree BSN program chose to volunteer in the days following the storm with an entity charged with setting up shelters. These teams from the Disaster Medical Assistance Team (DMAT) are comprised of similarly minded volunteers from across the country.  "This experience opened my eyes to a completely different side of nursing and how important it is to the community. I learned about how to provide a diverse type of care to patients during times of their greatest need and how important a shelter is to a community.
Media Contact: Laurie Fickman, lafickman@uh.edu (713) 743-8454
---