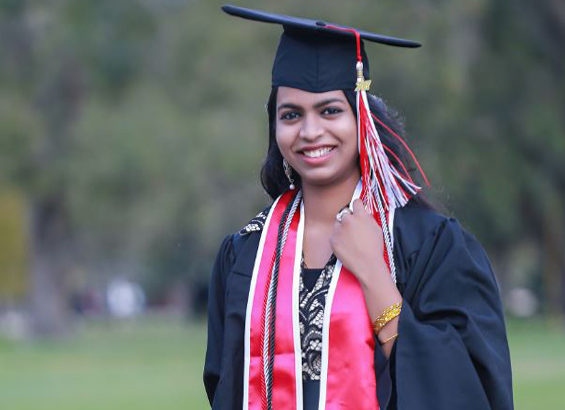 By the middle of December, approximately 3,400 University of Houston students will become graduates when the college-based commencement ceremonies are concluded. The UH fall graduating class includes 2,631 undergraduates, 631 master's students and 137 doctoral and professional students. A majority of the new graduates, 952, are receiving degrees from the College of Liberal Arts and Sciences (CLASS).
One of those students is the youngest graduate in CLASS, 20-year-old Ansiya Arakkal, who set a strict deadline for herself when she graduated high school – she would give herself only three years to complete her degree. She beat her goal, earning two degrees in the abbreviated time span: psychology and computer science, both in only two-and-a-half years.
"My biggest challenges were trying to completely put all my effort into my classes. The other activities I had outside of class usually took up a lot of my time, so I needed to have all my deadlines in mind when I took part in activities," she said.
Following graduation, Arakkal intends to earn a few certifications in cybersecurity and eventually master's and doctoral degrees.
Even younger
The fall semester is brimming with young graduates but at 17, Nicolas Xiong is the youngest of the entire bunch. He's earning a mechanical engineering degree from the Cullen College of Engineering that he will put to use immediately as a full-time engineer at Williams Companies upon graduation. Not a surprising outcome for Xiong, who read the Chronicles of Narnia at three, was working on freshman level high school chemistry at seven and already holds a mechanical engineering degree from a community college.
The Williams Companies waited until Xiong was 16 to offer him an internship.
Throughout his career in fast forward, Xiong has had the support of UH groups, clubs and mentors to lean on, but admits it hasn't always been easy.
"As much as there are haters, there are more people supporting you," said Xiong. "I don't want to prove the haters wrong. I'd rather prove the people who believe in me right."
Challenges all around
Juggling finals and work commitments might seem a delicate balance for some, but throw in Hurricane Harvey, a flooded home, a mandatory evacuation and you can just about picture what the past semester was like for Berenice Villarreal who will graduate with a degree in broadcast communications from the Jack J. Valenti School of Communication. Capping her success is the fact she's the first in her family to earn a college degree.
She said the pressure only motivated her success.
"It was stressful, but I had to keep in mind I just wanted to finish because that would be a happy ending for my family," said Villarreal. 
Another happy ending came courtesy of former UH basketball player, L.J. Rose, who read about Villarreal's temporary homelessness and offered to pay for her to live in a dorm the entire semester.
Because that's just how the Cougars roar.
Graduation fun facts
1,000th nurse to graduate from the UH nursing program will do so in December.
The oldest applicant for graduation this semester is 65. At 17, Xiong is the youngest.
In the College of Education, approximately 60 percent of bachelor's graduates are first-generation college grads.
Commencement Ceremony Dates
 Thursday, December 14
Friday, December 15
Saturday, December 16
---